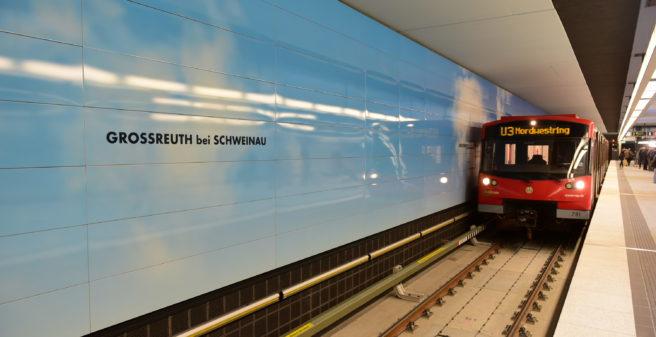 The trains of Nuremberg's driverless metro line U3 continue their route beyond the existing terminus just one stop further. Today, on 15 October 2020, the one kilometre extension to the new terminus "Großreuth near Schweinau" has been opened to the public – due to the COVID-19 panedmia without any ceremony. Nuremberg's municipality in cooperation with VAG, the local public service operator, built the prolongation from the previous terminus Gustav-Adolf-Straße, which is in service since the opening of the first stage of the U3 in 2008.
Construction works began in October 2014, and in February 2020 test runs started on the new strech, including extensive tests of the driverless train operating system. The entire automation, control and safety technology for the line was supplied by Siemens Mobility.
The new U3 metro section provides a much improved public transport link to Großreuth, and connects the district's residential and commercial areas. The new underground station in Großreuth near Schweinau shows a bright, open design – daylight illuminates the platform through various light shafts in the ceiling. Trains from Grossreuth to the city centre take 6 minutes to Plärrer and 8 minutes to the main station Hauptbahnhof while the total travel time of line U3 to Nordwestring terminus is about 17 minutes.
In August 2020, construction work began on a further section of the U3 beyond Großreuth via Kleinreuth to Gebersdorf. Service is expected to start here in 2025, connecting a completely new residential district, among others points of interest.
A map of Nuremberg's metro network is available here: http://www.urbanrail.net/eu/de/n/nuernberg.htm
A video of the inauguration can be seen here:
15.10.2020
---