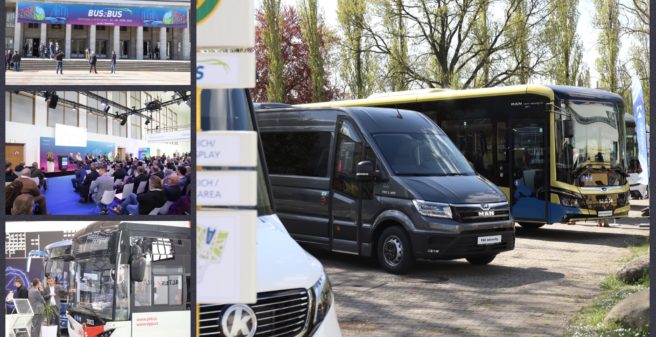 The industry meeting place for the German and European bus and supplier industry had a successful new start last week. This was the third live edition in total, which took place from 27 to 28 April at the Berlin Exhibition Grounds. After postponement due to the pandemic, it was finally "back to personal exchange". Around 2,000 participants* from 25 countries informed themselves about the latest trends in the bus industry, with a focus on sustainability through technological innovations. The next Bus2Bus is already planned and will take place from 24 to 25 April 2024.
"BUS2BUS reflected the high level of innovation in the industry on both days of the fair and provided a suitable platform for the discussion about new drives, infrastructures and new mobility concepts. The quality of the trade visitors was very high, as the feedback from our exhibitors shows. The atmosphere was overwhelming and once again underlined how much the industry has missed personal encounters – because bus business is people business," says Kerstin Kube-Erkens, Director of BUS2BUS.
Around 100 exhibitors from 16 countries presented their products, services and technical solutions at the industry meeting of the German and European bus and supplier industry. The key players in the industry were represented with a wider range of products, especially more vehicles. With their visit, representatives from politics, business and science underlined the importance of the bus in the context of the mobility transition. The combination of the trade fair, an informative stage programme consisting of the Future Forum and the bdo Congress, as well as the BUS2Specials was well received by trade visitors and exhibitors alike, which is reflected in the positive preliminary survey results. Another highlight was the Bus2Pitch platform, where start-ups from the public transport and bus industry were able to present their latest products.
Over 25 exhibited vehicles
This year, more than 25 new vehicles were exhibited. This is even more than in 2019. It is interesting that both public transport and vehicles from regional and long-distance transport were shown. In view of the increasing digitalisation of the bus industry, another focus of the fair was on digital services. In addition, a Startup Area was prepared where young companies from the mobility scene presented their solutions.
In the outdoor area, trade visitors were also allowed to experience the new vehicles live and in some cases even drive them themselves – made possible by a driving school vehicle. We took a look at the buses on display and talked to the manufacturers about new market developments.
The exhibited buses – an overview
The newcomer at Bus2Bus was undoubtedly the e-bus start-up Arthur. The company Arthur Bus, founded in March 2021 and based in Planegg near Munich, presented the H2 Zero, a new fuel cell bus whose consumption is said to be less than six kilograms of hydrogen per 100 kilometres and thus lower than that of its competitors. The 12-metre bus has a range of more than 450 km and is to be launched on the market from mid-2022. Production will take place near Lublin in Poland, while large parts of the engineering are based in Germany. In recent years, the company has already gained experience with components on various demonstrator buses. In addition to the hydrogen version, electric buses in 12 and 18 m versions are planned for the future. The aim is to score points on the market for zero-emission buses with lower weight and higher efficiency of the drive train and auxiliary consumers.
Caetano, a Portuguese bus manufacturer that has been selling fuel cell buses in Europe together with Toyota Europe for several years, had the H2.CityGold with them. Test drives with the vehicle were offered on the open-air site. The 10.74 m long bus is available as a two- and three-door version. The electric Siemens engines are powered by a 60 kW Toyota fuel cell and an LTO Li-ion battery. The bus holds a total of 312 litres (37.5 kg) of hydrogen, which allows a range of about 400 km.
Daimler Buses/ Mercedes Benz participated in Bus2Bus with a fully electric Mercedes-Benz eCitaro. The eCitaro is available as a solo and articulated bus with different door variants and is in operation in an increasing number of transport companies in Germany and Europe. There is also a choice of two different battery technologies in several configurations. The charging technology is also variable: there are three positions for charging plugs – two of which can be selected per vehicle – for charging in the depot, as well as versions with pantographs and charging rails for intermediate charging.
Daimler Buses also allows the transport companies to participate in the rapid further development of battery technology. This applies to the use of solid-state batteries as well as the use of the latest generation of NMC batteries.
Daimler Buses also showed the services that are offered in addition to the buses: On request, the eCitaro can be combined with the complete infrastructure, including the necessary conversion measures for the depot and charging technology from a single source. For transport companies, this means: turnkey e-mobility with city buses with customised vehicles and equally individual infrastructure from planning to commissioning.
The Dutch e-bus manufacturer Ebusco showed an Ebusco 2.2 in the low-entry version at the outdoor railing. Although the first series vehicles of the Ebusco 3.0 generation are already being delivered, the Ebusco 2.2 will continue to be operated. The low-entry version shown is suitable for both urban and interurban transport. Thanks to its range of 350 km, the E-bus does not have to remain unemployed on weekends, but can also be used for special trips and excursions.
Ebusco is particularly proud of the Ebusco 3.0, which is said to have a range of up to 575 km. The Ebusco 3.0 also won the Red Dot Award in the product design category in March 2022. The first out of the 90 Ebusco 2.2 for Berlin's BVG will be delivered in the upcoming months.
The Turkish minibus specialist Anadolu Isuzu showed its still relatively new Novociti Volt electric midibus, which is available in an 8 m and a 9 m variant. Depending on battery size and climatic performance, range is quoted between 200 km and 350 km. A Dana TM4 central motor is used with an output of 255 kW and 2,355 Nm. LFP (lithium iron phosphate) batteries are used, which are guaranteed for 8 years.
Iveco Bus celebrated the German premiere of the new Streetway, which is a 12-metre low-floor city bus with a Euro VI Step E Cursor 9 diesel engine with up to 265 kW (360 hp). It is available as a diesel and gas bus. Voith or ZF transmissions as well as two or three doors can be fitted. The bus is also available in 18 m and 18.75 m lengths. The Streetway was created as a cheaper alternative to the Urbanway, which is produced at the former Renault/ Irisbus plant in France.
Iveco also exhibited its electric E-Way electric bus. This is equipped with Li-Ion NMC (Nickel-Manganese-Cobalt) batteries, which allow a range of up to 400 km thanks to a capacity of 462 kWh. The E-Way is available in both 12 m and 18 m versions and can be recharged via pantograph or in the depot. There are also two short variants (9.5 m and 10.7 m) that can be recharged by plug-in charging.
Karsan showed three electric buses at Bus2Bus. Inside, the 5.8 m Jest Electric and the 8 m e-Atak could be viewed. Both minibuses are characterised by their electric drive train from BMW. The Jest Electric has a range of 210 km and can carry up to 25 passengers. Several categories larger is the Karsan e-Ata electric city bus, which is available in lengths of 10, 12 and 18 metres. The three-door e-Ata, which is said to have a range of 450 km, could be tested on the outdoor area. This is achieved with LFP batteries and a capacity of 449 kWh.
The minibus specialist K-Bus (Kutsenits) from Austria showed its portfolio with several city buses, which now also offers electric minibuses. The buses, which are manufactured in their own factory on existing chassis, can be adapted to all customer requirements and are thus suitable for citizen and minibus transport. The E Solar City XL shown on the outdoor grounds is 100 % electric and low-floor and achieves a range of up to 200 km. It uses the drive technology of the Mercedes-Benz EOV Viano.
Pepper Motion (formerly etrofit) exhibited a Mercedes Benz Citaro converted from diesel to electric drive. The entire diesel powertrain has been replaced by an electric one with traction batteries. The batteries are located in the rear, where the engine used to be. NMC batteries and a ZF electric axle are used. Other models suitable for the conversion are in preparation.
Otokar also came from Turkey with its new electric midibus e-Centro C, which also celebrated its German premiere in Berlin. It is characterised by a modern design and has a length of 6.61 metres and a width of 2.45 metres. It uses Dana TM4 permament magnet synchronous motors with NMC batteries with a capacity of 70 kWh or optionally 110 kWh. The 12 m long E-Kent C was shown on the outdoor area, for which a range of 300 km is stated.
In addition to the Lion's City 18 E electric articulated bus, MAN showed the Lion's Intercity LE, which is a new low-entry bus suitable for both urban and regional transport. It is equipped with the Efficient Hybrid Module and thus reduces pollutants and emissions.
At least new to the European market is the manufacturer Switch. Behind the Switch Mobility brand is a new group for electrified commercial vehicles, which is supported by the Indian Hinduja Group. Switch Mobility combines the electric commercial vehicle activities of Ashok Leyland and the former bus manufacturer Optare, a quite well-known brand from Great Britain. Switch is pursuing the ambitious goal of gaining a foothold in the continental European market with zero-emission buses. The name Switch is also supposed to be a symbol for the change from fossil fuels to zero-emission drives. Two models for left-hand traffic from Great Britain were exhibited. Switch Mobility is currently building a new production facility for electric buses in Valladolid, Spain.
Having already acquired and implemented several rail vehicle projects in Germany, Škoda Transportation now wants to establish itself as a player in the German electric bus market. Together with its sister company TEMSA, Škoda shared a large stand in the hall. TEMSA is a manufacturer of buses, midibuses and light trucks and has been part of the Sabancı Holding and the PPF Group, of which Škoda Transportation is also a member. On display in the hall was one of the 14 new E-City 12, with charging pantograph for Prague Public Transport (pid). It has a length of 12.2 m and has been in operation on Prague bus lines 154 and 213 since the beginning of the year. The pantograph enables opportunity charging via the overhead line, whereby this can be fed by the existing tram network. We reported here. The E-City 12 has a battery capacity of 266 kWh. While Temsa supplies the bodywork, Škoda is responsible for the electric part. Trolleybuses and fuel cells will also be offered on this new product platform.
Škoda is particularly proud of its 85-year history of trolleybus production. In this respect, the order won in February 2022 for the delivery of 20 double-articulated trolleybuses together with Solaris for Prague is a special order. The double-articulated trolleybus was first presented at Busworld in Stockholm in 2019. 16 units will also be delivered to Bratislava. On display at the stand was a Lego model of the 24-metre trolleybus by Mateusz Wawrowski from Poland, who has made a name for himself on social media and elsewhere by recreating public transport vehicles out of Lego building blocks.
The second bus on show was the Temsa MD9 Electricity, a midibus just under 9.5 m long and 2.4 m wide. It is powered by 250 kW permament magnet motors that deliver a torque of 2760 Nm. A 240 kWh battery is installed. Visitors to the fair were able to test drive the Tema Avenue Electron on the outdoor grounds. The 12-metre bus is also equipped with TM4 premanet magnet motors and Li-Ion NMC batteries, which are offered in three sizes (240, 300, 360 kWh).
VDL did not exhibit any buses, but did display a large wall on its stand with a design image of the new Citea electric articulated bus.
05.05.2022
---