This year's "Busworld 2019" will take place at the Brussels Exhibition Centre from 18 to 23 October. But why in Brussels? Hasn't "Busworld" always been at the fairgrounds in Kortrijk, Belgium?
That's correct: the "Busworld" was founded in 1971 in Kortrijk, originally with the aim of presenting the offer of the domestic bus manufacturers to Belgian bus operators – and to their colleagues from the BeNeLux region.
Anyone who remembers the location of Kortrijk, located very close to the Belgian/French border, will not be surprised that the fair soon became interesting for French exhibitors and trade visitors. And to make it short: soon exhibitors and visitors came from all over Europe. In 2005 a Chinese bus manufacturer in Kortrijk exhibited for the first time with the Chinese manufacturer "King Long" …
As a result, the fairgrounds in Kortrijk soon became too small for the world's largest pure bus fair. Although a sixth hall was built in addition to the original five exhibition halls, the hall of the neighbouring conference center "Gruzenberg" was included for Busworld as "Hall 7" and later on large tents were added.
However, the demand for exhibition space at Busworld continued to grow. As "Busworld" could not expand in Kortrijk, consequently the decision was taken to move to the much larger exhibition grounds in Brussels. Therefore, Busworld 2019 will be held in Brussels for the first time.
.
Products and companies
Let's have a look at this year's exhibitors and their products. Our preview of this year's trade fair is in alphabetical order.
As a general comment, the Busworld 2019 will be very much dominated by alternative drives. Of course, buses with a diesel engine will also be on display – especially coaches – but for every form of regular service, the focus of the trade fair's innovations is clearly "Electric, Hybrid and Co".
Alexander Dennis (Hall 4)
The company was formed as a merger of several British manufacturers such as the Alexander body shop, Dennis and the coach manufacturer Plaxton. Alexander Dennis is best known for his double-decker buses – it definitely is among the world's leaders in this area. Vehicles from the British Isles have so far struggled a bit in "continental Europe". Here, a maximum height of 4.00 meters applies for double-deckers (even the Berlin cars with their 4.06 meters height need an exemption permit), in the UK a double-decker with a height of less than 4.20 meters would be rather rare. But Alexander Dennis is also aiming for the continental European markets, and as a consequence there are now also double-deckers with the "European height" of 4 meters from Scotland. The first cars went to the Swiss Post about two years ago. Berlin's BVG is also on the list of future customers and will receive the first double deckers in 2020.
Together with the Chinese battery electric bus builder BYD, Alexander Dennis is also very much involved in the construction of electric buses. BYD supplies the electric drive, while the rest of the vehicle comes from Alexander Dennis. These "BYD/Alexander Dennis" vehicles are mainly operated in London.
In May 2019 Alexander Dennis was taken over by the Canadian bus manufacturer "New Flyer" (NFI).
In Brussels, Alexander Dennis will show its new double-decker "Enviro 400 ER Hybrid" (ER = Electric Range), which can travel up to 5 kilometres in purely electric driving.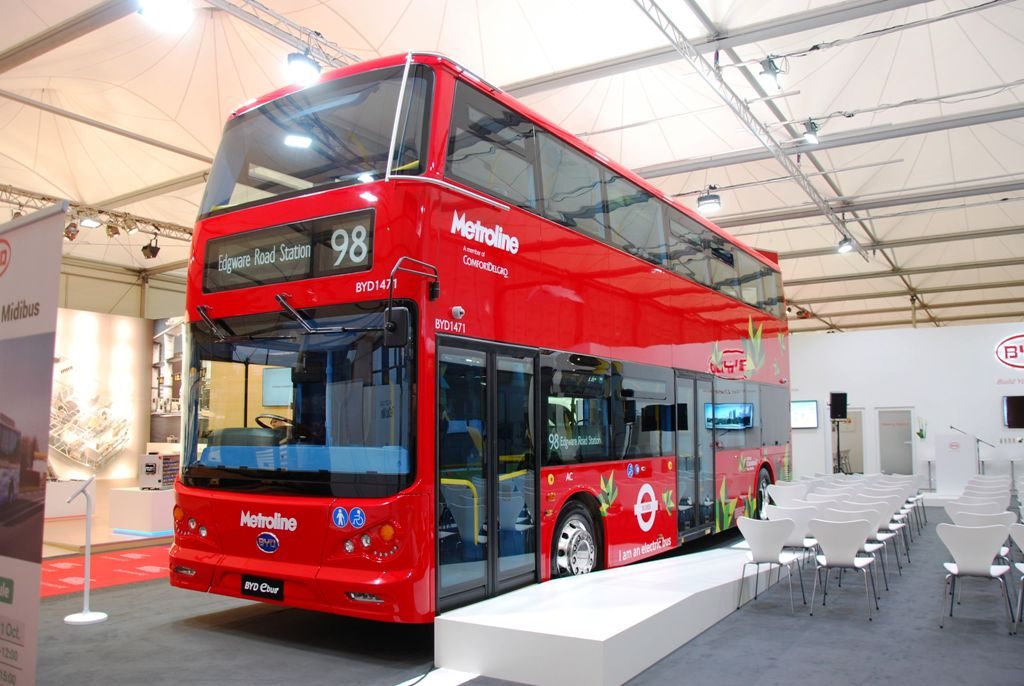 Alstom (Hall 2)
Two years ago, the French railway manufacturer Alstom presented its all-electric low-floor bus "Aptis", a vehicle that looks quite a bit off a habit. This starts with the fact that its four wheels are located at the extreme four corners of the car. All four axles ares steered. This leads to the fact that the bus does not need more space than other buses despite this large axle width when cornering. This gives the passenger a completely unfamiliar driving experience of a city bus.
The interior of the car is also surprising because all seats are arranged in compartment form. A detail that makes sense in a bi-directional tram, but for a bus?
Alstom, meanwhile, has been able to sell its Aptis to several operators including RATP Paris and CTS in Strasbourg.
BYD (Hall 9)
BYD, an electric bus manufacturer based in Shenzhen, China, goes back to a company that started building battery electric buses in 2003. In general, BYD is one of the largest manufacturers in the world of battery-powered vehicles. BYD translates to "Build Your Dream".
At the beginning of this decade "BYD Europe" was founded in Rotterdam.
In 2013, a first test bus, a"BYD eBus-12″, arrived on Europe's roads. It undertook some testruns with SWB in Bonn. For four weeks it was on line 630 – albeit without passengers. The line had been carefully selected: it crosses areas of the city with dense traffic, it goes up hill and down hill… The BYD managed everything without any problems including the promised 200 kilometers without recharging. However, due to the high weight of the batteries, it was only allowed to take 60 passengers over its total length of 12 meters.
But that was a long time ago. Meanwhile, BYD has already delivered more than 45,000 electric buses worldwide. Of course, most of them have gone to the Chinese home market.
BYD's electric buses are now able to carry as many passengers as is standard 12-metre buses. And so BYD was recently able to book a first order from Germany: In 2020 a total of 20 buses are to be delivered to Bogestra in Bochum and two to the neighbouring HCR in Herne. What about the re-charge of the buses? It is rather not necessary. For "emergency" there will be a charging station in Gelsenkirchen at the town hall Buer, but the standard operation will take place without recharge.
BYD offers buses in lengths of 8.7 metres and 12 metres, and there is an articulated version with a length of 18 metres. There is also a 12.9 meter long electric coach, two of which are already in service on the Flixbus line Frankfurt – Heidelberg – Mannheim. For them there is a recharging station in the long-distance bus station at Mannheim Central Station.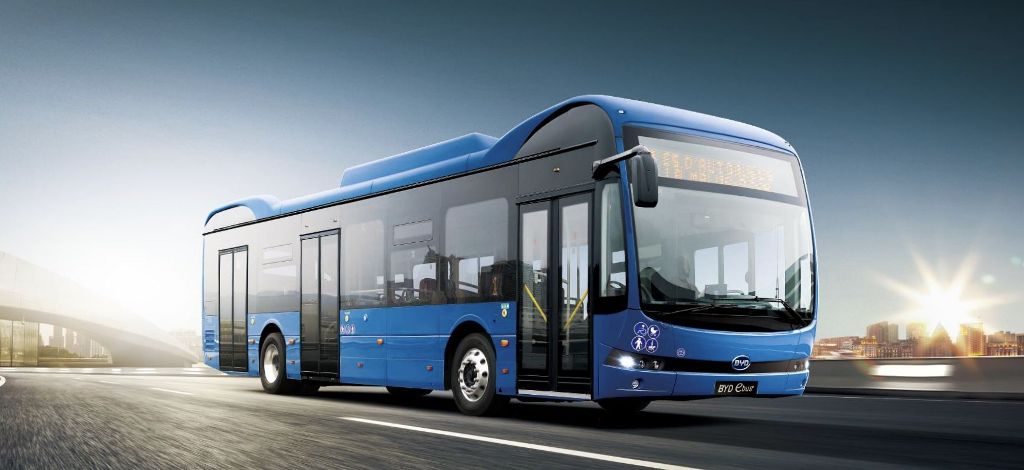 Daimler-Benz (Mercedes-Benz, Setra) Hall 5
"Daimler Buses" shows a total of 8 buses at its stand in hall 5. These are:
eCitaro
Intouro (der "vielseitige" Kombi)
Tourismo (der erst vor kurzem gründlich erneuerte Reisewagen)
Sprinter Travel 75 (ein Mini-Reisebus mit – dank "Hochlast-Hinterachse" – 21 Sitzplätzen)
Also showing four cars is Group sister Setra. In particular:
MultiClass "S 415 LE business"
ComfortClass S 515 HD
TopClass S 516 HDH
TopClass S 531 DT
It is interesting that Mercedes refrains from showing a conventional diesel bus for the regular cars. The fact that one confines one's limit to exhibiting the electric bus "eCitaro" here clearly shows "where to go".
In the case of the "minibuses" from the Dortmund plant, the conversion of the various Sprinter bus types ("Mobility" for disabled transports, "City" for regular services, "Transfer" as a station wagon for line and excursion as well as "Travel" for demanding travel traffic) is based on the latest design continues.
Among the Setra stands out the low-entry line car "S 415 LE business" from the combination series "MultiClass"("multi" here = versatile). The car, which is being built at Daimler's Plant in Hosdere near Istanbul in Turkey, is characterised by good features in regular services, coupled with pleasing Setra styling.
Ebusco (Patio)
The Dutch electric bus specialist Ebusco was founded in 2012. Already in autumn 2013, a first test car ran for two weeks on line 607 of the Stadtwerke Bonn (SWB).
In the meantime, more than 150 electric buses have been delivered to 15 European cities.
Ebusco celebrates the world premiere of its "Ebusco 3.0" at its factory in Deurne (near Eindhoven) a few days before Busworld. It will, of course, be the focal point of the manufacturer's presentation in the "Patio". With its batteries, the Ebusco 3.0 claims to have a range of more than 350 kilometres. Therefore, recharging is not required during the operation on the line: it is completely sufficient to recharge the bus during the night break at the depot. If the bus does not need charging stations during normal operation, it can of course also be used flexibly in the entire network of its transport operations. Practical tests will show.
Iveco (incl. Heuliez) Hall 4
Iveco was formed in 1975 as a merger of the commercial vehicle brands Fiat, Lancia, Magirus-Deutz, OM, Renault and Unic. With the turnaround in the former Eastern Bloc, the Czech bus manufacturer Karosa was added. Iveco fundamentally modernized its plant in Vysoke Myto, Czech Republic: The very successful "Crossway" is produced here
At its stand in Hall 4, Iveco will first show the latest generation of its minibus called "Daily MY 2019". It is not only offered with a diesel engine, but also with bio-natural gas engine. The following versions are available:
School bus
Interurban bus (in this version, according to Iveco, it offers more seats than all competitors)
Coach
Iveco also shows its successful "Crossway" bus with "Natural Power" as alternative drive. At Busworld, this version of the Crossway is to be available both as a low-entry bus and with a "normal-high floor" layout.
Iveco also presents its futuristically styled articulated trolleybus "Crealis" with in-motion charging ability
The "Evadys" combination and the "Magelys" coach will be shown in a new, revised version.
Group company Heuliez (like Iveco, a subsidiary of the Fiat Group) shows a battery bus at the same stand in Hall 4, which is 100% electric. Heuliez is responsible for battery buses within the Group.
It is also of interesting that Iveco was able to book a record order entry for its city bus "Urbanway". No less than 409 biogas-powered cars will go to Ile-de-France-Mobilités (Paris region) in 2020 and 2021.
MAN und Neoplan (Hall 4)
MAN and Neoplan are now both part of Volkswagen Group. MAN focuses its presentation at Busworld on alternative drives beyond diesel. The topic at the fair is therefore not only the new generation of the "Lion's City" model, but also its alternative drives such as hybrid and electric.
In addition, MAN shows its minibus "TGE". The "MAN TGE City" minibus is available with low-floor entry and 15 seats. In addition, it is available as an "Intercity" version for excursions with 16 seats and trunk.
Certainly a highlight among MAN's buses is the electric minibus "eTGE". Its electric motor has a power of 100 kW. The electrical energy is stored in 35.8 kWh lithium-ion batteries, the range communicated by MAN is between 110 and 114 kilometers. The top speed is 90 km/h. The still relatively modest range makes the "eTGE" for the time being a shuttle bus rather than a real electric-micro-line bus. But: e-mobility is making rapid progress …
In addition, MAN will of course show its coach family "Lion'*s Coach", with which they have become market leaders in Germany for the first time in 2018,
.
MAN's subsidiary Neoplan will show: – Tourliner (travel car) – Cityliner (high-decker) – Skyliner (travel double-decker)
And one thing remains unchanged: since designer Bob Lee drew the legendary "Type Hamburg" in the early sixties, a Neoplan has always been particularly visually successful which means: it is always a very special eye-catcher.
By the way, the joint commercial vehicle subsidiary of the Volkswagen Group, Traton, has announced that it will invest more than one billion euros in the field of research and development of electric mobility by 2025.
Otokar (Hall 4)
The Turkish bus manufacturer is best known in Germany for its Vectio midibuses and its 12-metre Kent C passenger cars.
In 2013, a first Vectio started operation with Stadtwerke Osnabrück. It was converted into electric mode by the French company "PVI Oreos", type "4 x".
.
Otokar has also had some success in Germany recently with the 12-meter bus "Kent C". At least one such car runs at Linke in Lemgo and another one with Brenner in Hennef.
The company has also announced an electric version of the "Kent C" model for Busworld exhibition.
Scania (Hall 4)
The Swedish subsidiary of the VW Group (and thus sister of MAN), which today builds a substantial part of its buses in Slupsk, Poland, relies on a considerable variety of propulsion "fuels".
The intercity bus "Interlink LD" is now also shown in a hybrid version. Next to it will be the "Interlink HD", a high-decker with a length of 12.80 meters. As a high-decker, it no longer really belongs in the category of intercity buses, but rather to the "combined buses" being also suitable for long-distance operation.
The low-floor city bus of Scania, the "Citywide LF electric" made its debut a year ago at the IAA Commercial Vehicles in Hanover. It uses an inverted pantograph for opportunity charging at termini.
Finally, Scania shows its coach "Touring" in the length of 12.9 meters. The body is built by Higer in China. Scania announces a fuel consumption of less than 20 l/100 km!
Solaris (Hall 5)
"Emission-free" is the motto of Polish bus manufacturer Solaris, a subsidiary of the Spanish CAF Group for one year. It actually is one of the exhibitors with no diesel bus is on the stand at all!
On the one hand, Solaris is showing its new fuel cell bus "Urbino 12 hydrogen". The bus generates electricity in a chemical reaction of hydrogen with the oxygen of the air, which is then propelling the electric motors. A tank of hydrogen is sufficient for 350 kilometers. To support the fuel cell under heavy load, there is a small battery, which is charged with recuperated power when braking, but which can also be recharged via cable and plug in. The bus is completely emission-free – while a diesel bus causes exhaust gases, the "Urbino 12 hydrogen" produces only pure water (in the form of steam).
The second exhibit at Solaris will be the electric articulated bus "Urbino 18 electric". Battery-electric articulated buses are still relatively rare. The Urbino 18 electric has new batteries of the type "Solaris High Energy +" ( + ="plus") needed for the additional power supply compared to a 12-meter ebus.
Heating and air conditioning are problematic for the electric bus. If they work at full power, they draw a lot of energy from the batteries, which may be missing for driving. Therefore it is not uncommon so see the use of an additional combustion engine in an electric bus for the heating. Solaris has now found a much more environmental-friendly solution for its new electric articulated bus: heating and air conditioning work with a heat pump.
Finally, Solaris will be showing its nearly 25-metre-long double-articulated trolleybus "Trollino 24" as an official world premiere at Busworld. The vehicle had its first appearance to the press at the end of June in Gdynia, Poland (UTM reported here: https://hosting129892.a2e10.netcup.net/en/trollino-24-solaris-first-double-articulated-trolleybus/). At that time it impressed with his manoeuvrability, by no means different from a simple articulated bus thanks to the steered fourth axle.
Tribus (Hall 9)
The still relatively new Dutch bus manufacturer Tribus presents two buses in Hall 9. These are the "Movitas" electric bus and the "Civitas Economy", a low-floor minibus based on the current model of the VW Crafter.
A much more independent development is the electric bus "Movitas". It is very modular, allowing lengths between 8.2 metres and 10.45 metres. The car is a 100% low-floor bus, and since its wheels (as with the Alstom Aptis) are arranged at the outermost corners of the body, the Movitas has steering on all four wheels.
Van Hool (Hall 5)
For Van Hool, not only Belgium's largest bus manufacturer, but also the largest independent bus manufacturer in Europe, "Busworld" has always been something of a "home run". Van Hool has always had one of the largest stands at the fair. This year at the premiere of Busworld in Brussels Van Hool shows a total of 18 buses, partly in Hall 5 , and partly on the open-air area.
Among them are no less than three world premieres: There is the futuristically styled low-floor articulated bus "ExquiCity 18 Fuel Cell". The bus is powered by hydrogen, which produces electrical energy in a fuel cell with the oxygen of the air. The bus is 18 meters long. When braking, it recuperates electrical energy stored in lithium batteries. The hydrogen tank is fully refuelled within 10 minutes and the bus has a range of 300 kilometers. It can carry 125 passengers. The vehicle on display will be delivered to the French city of Pau.
Van Hool also shows its "EX 11" as a world premiere. It rounds off the "EX" coach series from the plant in Skopje (Northern Macedonia). The EX 11 is 11 meters long and has an engine from the Dutch house DAF.
In addition, Van Hool displays the new "CX 45 E". It is a coach specifically designed for the North American market, but it is 100% electric. This is more than just remarkable: it was not long ago that "long-distance buses" and "electric drives" were considered incompatible: the range that could be reached with fully charged batteries seemed too low. And recharging while driving is also rather difficult for a coach.
VDL (Hall 6)
The Dutch bus manufacturer VDL very much relies on electric mobility, too. Three buses will be shown at the stand in Hall 6:
First there is the Citea SLE-129/electric, a 12.9 meter long low-entry electric bus with three doors. It has a high-performance battery pack with a capacity of 288 kWh, and it is recharged via pantograph mounted on the roof of the bus.
Then VDL shows the 18 meter long Citea SLFA-180/electric. From its electric articulated bus, VDL has already been able to deliver more than 260 vehicles to customers (incl. of the 10 centimetre longer type SLFA-181, with a slightly different front and back design). The electric articulated bus also has the high-performance battery pack with a capacity of 288 kWh and is recharged via pantograph on the roof. In the exhibition vehicle at the trade fair, the front part of the car is "seat-optimized", while the rear car offers as many seats as possible.
All of VDL's electric buses delivered to date have now together ran some 50 million kilometres. By the end of 2019, the order books will record orders for more than 450 additional electric buses. And more than 300 electric buses from VDL are already in use on its home market in the Netherlands.
The third bus on the VDL stand will be the low-entry bus Citea LLE. It comes with a new external design. Fuel consumption is very low thanks to a lightweight design. A new generation of engines is installed as a drive, which naturally meets the Euro 6 pollutant standard. Even with the new engines, fuel consumption will be reduced by another 6 percent. Finally, VDL claims a much improved "TCO" (TCO = total cost of ownership).
On 8 October, VDL signed a contract with Kiel-based KVG for the delivery of 36 VDL Citea SLFA-187/electric. The first of these cars will be delivered in 2020, the remaining ones in 2021. They are designed for overnight recharging at the depot and during use on the line through charging stations at the final stops via Pantograph. Total length is 18.7 meters – this is 60 cm longer than their "colleagues" operating in Cologne and Osnabrück of the type "VDL Citea SLFA-181/electric". The first of these cars in Cologne have been in operation with good success since the end of 2015.
In terms of coaches, VDL shows:
– its "Futura FDD 2-141/2600", a luxurious traveldouble-decker with the seating variant 2 + 1, i.e. only three seats per row
– the luxury coach "Futura FHD 2-129/2100", 12.9 meters long and with 53 seats
– and the luxury coach "Futura FHD 2-139/2300", 13.9 meters long and with 57 seats.
Volvo (Hall 5)
Volvo, the Swedish bus manufacturer that builds its buses for the German market (and others) in Wroclaw, Poland, will be represented in Brussels with various new products.
The all-electric articulated articulated bus "7900 EA" (EA = electric articulated) celebrates its premiere. Next to it will be the 12-metre-long 7900 H, a "full hybrid" bus that has been developed to perform up to 50 km in pure electric mode without the need to switch on the diesel engine.
Volvo is also showing the 15-metre-long, three-axle version of its "9700" type for the first time.
.
12.10.2019
---