Every year the so-called veterans meeting takes place in Eberswalde, near Berlin. This isn't about veteran soldiers, as one might suspect, but oldtimers on wheels. Actually, the event is all about historical trolleybuses, cars and trucks.
Alongside Wartburgs, Trabants and BMW cars, there were also several trolleybuses on display on 4 May 2019. This year's veterans meeting took place at the depot Nordend of the public transport company BBG (Barnimer Busgesellschaft). The event has been supported by the local heritage preservation association DVN (Denkmalpflege-Verein Nahverkehr Berlin e.v. http://www.dvn-berlin.de/). Hourly tours through the city were made with the historical DVN trolleybuses.
There were the following trolleybuses on display:
Škoda 9Tr (built in 1969) with Lowa trailer (type W701, built in 1959): In the years 1962 to 1970, a total of 134 9Tr trolleybuses were procured for the 11 GDR trolleybus systems. Overall, Škoda built a total of 7,452 trolleybuses of this type worldwide until 1982. Eberswalde procured 15 brand new and 7 second-hand 9Tr's, each of which was taken over by the shutdown operations in Berlin, Dresden and Gera. Some cars were equipped for operation with Lowa trailers from GDR production. Trolleybus 31 (1984 ex 19) was retired in 1988 and restored. The LOWA trailer of the type W701 from 1959 was recently restored. Amazingly, the trolleybus operator in Eberswalde was the last to abandon trailer operation on public roads in Germany in 1985.
Škoda 14Tr (built 1983/84): In the 1960s and 70s, numerous trolleybus operations were shut down in both western and eastern Germany due to lack of vehicles and investment. However, after the oil crisis in the 1970s, trolleybuses gained in importance again and investment in the few remaining systems followed. The successful test operation of a new 14Tr in Weimar in the years 1983/84 triggered a total order of 20 vehicles for the remaining trolleybus systems in the GDR in Eberswalde (3), Potsdam (5) and Weimar (12). It was the first new vehicle procurement for those cities in 13 years. Interestingly, the vehicles came out of a series for the then Yugoslav Sarajevo (Winter Olympiad 1984) which were not accepted by the customer due quality issues. The vehicles were repaired in Eberswalde. In particular, the robust and low-maintenance and energy-saving thyristor control system used for the first time in Eberswalde was a novelty. From 1981 to 2004, more than 3,400 Type 14Tr buses were built. The historic O-bus in Eberswalde is originally from Weimar. From there it came to Potsdam in 1990. After the cessation of the Potsdam O-bus operation in 1995, the Potsdam trolleybus 976 (1988 ex 406, 1985 ex Weimar 8003) was taken over by the heritage preservation association DVN Berlin e.V. for museum purposes.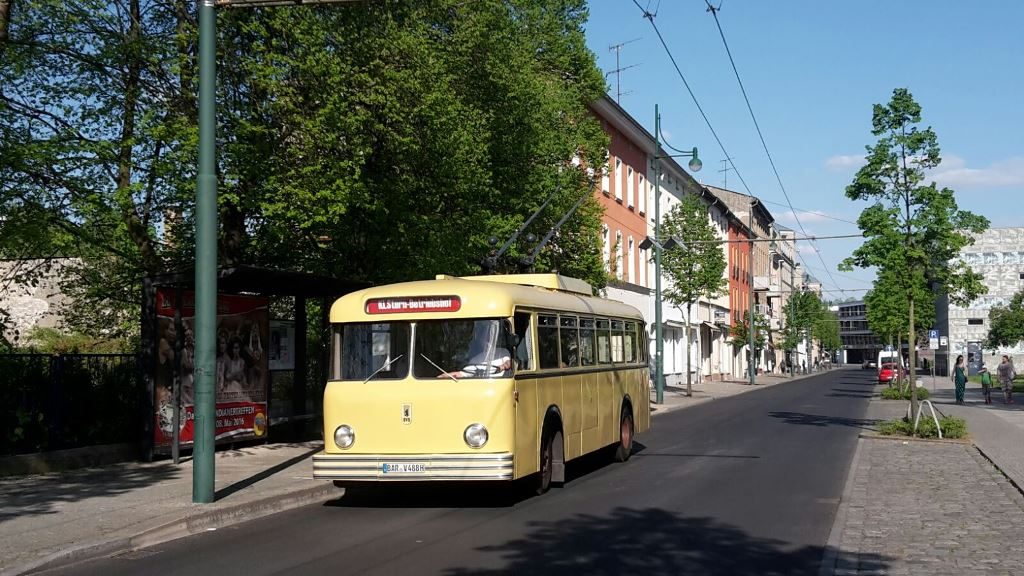 BVB Berlin trolleybus 488, BVG Berlin (built in 1957, assembled in the BVG main workshop, carbody by Gaubschat from Berlin Neukölln, electrical equipment: AEG / Henschel): The BVG procured six trolleybuses of this type in 1957 which were mounted in their own main workshop. The vehicle is characterized by, an at the time innovative, self-supporting steel-aluminum body, the indirect electro-pneumatic driving and braking control and a 72-volt emergency battery. Similar to today's modern hybrid trolley buses, the car was able to be moved over a distance of about 1.5 km without wires. Trolleybus 488 was used on the fourth trolleybus network in Berlin which existed until 1965. It consisted of two non-interconnected networks with up to 3 lines in the districts of Spandau and Steglitz. The network was operated by the Berliner Verkehrs-Gesellschaft, which was renamed in 1938 in Berliner Verkehrs-Betriebe (BVG). After 1949, the trolleybus operation was continued by the BVG in West Berlin and finally closed in 1965. Another trolleybus system existed in the East Berlin from 1951 until 1973 in the districts of Mitte (city centre), Friedrichshain, Prenzlauer Berg and Lichtenberg.
Ikarus 405 (built by Ikarus/ Ganz in 1987): After all 25 Eberswalde Ikarus trolleybuses were taken out of service in 1995 and 10 of them were given to Timisoara in Romania, the BBG an original articulated Ikarus 280.94 from Budapest (ex 205) for the 75th anniversary of the trolleybus system in Eberswalde in 2015. In Eberswalde it was given the number 405
In addition, the Denkmalpflege-Verein Nahverkehr Berlin (DVN) e.V. owns the following historic trolleybuses:
Trolleybus 1224, BVG Berlin, built in 1941, manufacturer Waggonfabrik Schumann (Werdau in Saxony), it is the oldest trolleybus in Germany
"Standard wartime bus",size II (ex Wilhelmshaven No. 76), years of construction 1942 – 45, was discovered in 2003 as a gazebo and is now being worked on by donations; similar vehicles of standard size I were also used in Eberswalde
Lowa trolleybus W602a (built in 1953): Both the East Berlin transport companies (BVG – later BVB) and Eberswalde procured such vehicles in the post-war period. The Lowa O-buses were used with Lowa trailers of the type W700 until the closure of the Berlin Lichtenberg network in 1973. In 1988 a trailer and in 1989 the trolleybus No. 1520 could be discovered. Both vehicles are currently being restored.
Eberswalde's trolleybus is popularly known as Strippenbus or Strippenexpress. Alongside the trolleybus systems in Esslingen am Neckar and Solingen, it is the only out of three remaining trolleybus systems in Germany. The Eberswalde trolleybus was opened on 3 November 1940 and is thus the oldest German trolleybus system. Two lines operate today on a total network of 37.2 km with 12 articulated Solaris Trollino low-floor buses. The 12 MAN/ ÖAF Gräf & Stift NGE low-floor buses, built in 1993/ 94, were given to Budapest in 2011/ 12.
02.06.2019
---