Magdeburger Verkehrsbetriebe GmbH & Co. KG (MVB), the municipal transport company of Saxony-Anhalt's state capital Magdeburg, presented the first 13 of a total of 26 new buses that will enter service this year 2021 at its "Kroatenwuhne" depot on September 14. The new "MAN Lion's City 12 efficient hybrid" type coaches – see their name – have a hybrid drive and replace an equal number of older diesel buses.
The new buses are 12,185 mm long, 2,550 mm wide and 3,060 mm high. MVB also opted for three-door buses with them to speed up passenger transfers at bus stops. 28 passengers find a seat, the cars have 64 standing places.
For the seats, MVB did not opt for bucket seats made of plastic or wood, but for those with an upholstered cushion. The seat covers are in the basic color green (MVB's corporate identity) and are decorated with Magdeburg landmarks such as the famous Magdeburg Cathedral, the Hundertwasser House and the Millennium Tower. Jörg Lahn, spokesman for MVB's passenger advisory board, explains: "In the advisory board, we decided on upholstered seats because we think upholstered seats are more comfortable. We are pleased that MVB followed our recommendation." The design of the new seat covers was developed in-house at MVB.
The new buses are powered by the MAN D 1566 LOH diesel motor with 243 kW (330 hp) nominal power and automatic transmission. For a city like Magdeburg, which lies on the plain, an engine with 330 hp is truly not bad. Thanks to its hybrid technology, the bus uses the kinetic energy when it brakes and, in addition, it converts it into electricity and stores it in its batteries. Thanks to an automatic start-stop system, the engine switches off automatically when the car comes to a halt at a stop or traffic light or in a traffic jam. This may not sound particularly spectacular, but it does save a considerable amount of diesel fuel. Bonn's SWB has a larger fleet of MAN efficient hybrid (24 cars), and they report diesel savings of around 20 percent. And, of course, correspondingly fewer exhaust gases are emitted into the air.
With the procurement of the 26 Magdeburg "MAN Lion's City 12 efficient hybrid" vehicles, MVB is replacing half of its bus fleet at once. Together with the MAN Lion's City 12s procured last year, the MVB thus has a remarkably young bus fleet, and thus offers its passengers a very pleasant ride.
MVB's bus fleet consists of 60 cars (29 articulated buses, 28 two-axle buses, 2 minibuses and 1 double-decker). So 26 new buses are almost half the fleet. A city with 240,000 inhabitants with only 60 buses? Magdeburg's partner city Braunschweig, which is not much larger, has 140 buses, while Bonn, with a population of 330,000, has 200 of its own and 31 buses from subcontractors. It is quite obvious that Magdeburg primarily relies on the tramway system as the backbone of its public transport network.
MVB has announced that they are planning to purchase 17 articulated buses in 2022 and 2023. So the rejuvenation of Magdeburg's bus fleet continues.


Looking back into Magdeburg's bus history: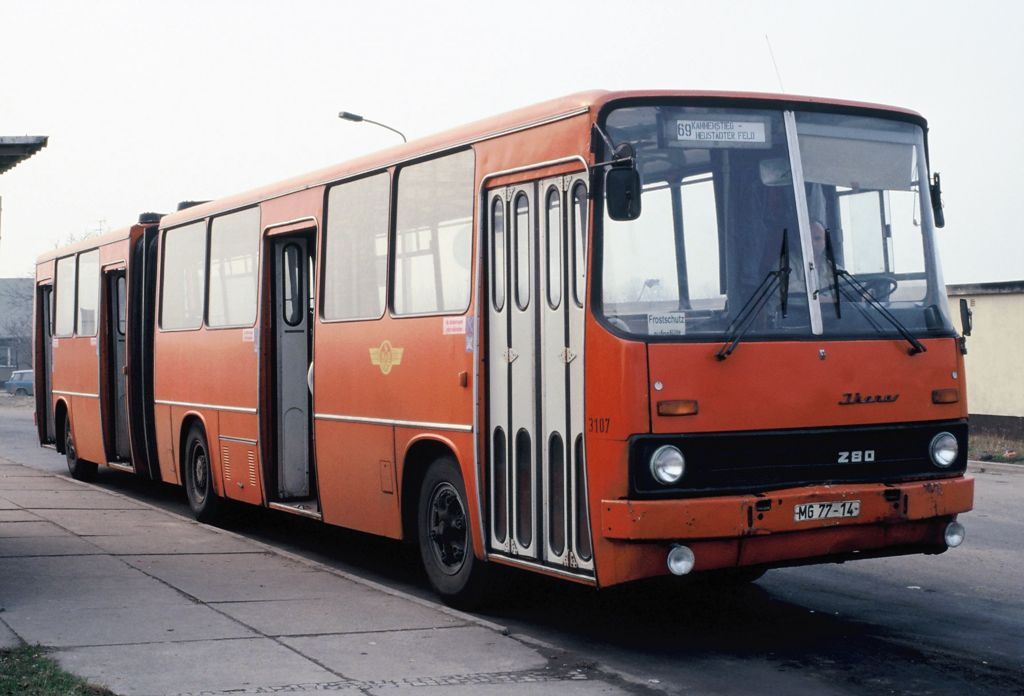 20.09.2021
---