Many of the UK's most loved and well-known cities are steeped in history and heritage, but are unfortunately ill-equipped for the demands of modern transport and lifestyles. With narrow streets built for those on foot or horseback, to chunky cobblestones and leaning gabled buildings protected against development in their vicinity, the UK's cultural cities may be beautiful, but are often difficult to navigate comfortably. Old winding streets, one way access and quirks of architecture all make creating accessible, easy-to-use public transport systems a planning nightmare; but it's not impossible to achieve.
The first consideration needs to be for the cities themselves and tailoring any public mobility system to the needs of the people who live and work in that city. There will never be a one-size-fits-all approach that suits every corner of the UK. It could be the steep hills of Exeter and Bristol to the ultra-narrow streets of York, or it could be the social and employment needs of urban populations – what works for one place will not necessarily work elsewhere.
What can be agreed on is, thankfully, clear:
The need to reduce car traffic and emissions from private transport.
Increase the availability and accessibility of public transport services like bus, rail and light rail that use clean energy sources and create lower emissions.
Investigate micro-mobility or on-demand transport services that would best serve the city and its population – and that can 'join up' the other modes, providing seamless, door to door journey experiences.
A city example
To consider how such objectives can work in reality, let's look at a city like Cambridge as an example. Cambridge has been a settlement for over 1,000 years, although much of the architecture we see today is not quite that old – a mere 800 years in the case of some of the colleges of Cambridge University.
With a such a long and varied history, including being used as a trading town, a base for Parliamentary forces during the English Civil War, and a centre of learning, Cambridge has a true mish-mash of architecture, and the streets and city layout are no exception. Increased expansion and build-up of the surrounding areas during the 20th century, and particularly after the Second World War, put increasing strain on the city's transport networks, both public and private.
The River Cam also cuts through the city, dotted with bridges and jetties, and the main rail service is set surprisingly far away from the city centre, in contrast to most UK cities.
Like its rival, Oxford, Cambridge does excel with bicycle use, and up to 54% of the population regularly cycle as a means of travel. With a relatively flat terrain and narrow streets unsuitable for cars, bikes are popular and cost-effective among the student population and general commuters for getting around. This, coupled with the clean air zone initiative, has given Cambridge an already 'green' attitude to public transport.
Who are the transport users?
Cambridge has a high concentration of students who are frequent users of public transport, mainly buses. There is also the London commuter population using rail, given its convenient distance from the capital. With numerous University colleges and science and technology parks both in the city and dotted outside, there are many people commuting into the city for work and leisure from the surrounding towns and villages.This has created a well-connected road network between the varius towns, villages and tech parks. As many as 40% of the workforce in Cambridge are employed in higher education or science, twice the national average.
Tourism also plays a large role in Cambridge's economy and visitors, especially during the summer months. As a city of historic and cultural significance, Cambridge attracts up to 8.5 million visitors each year, many of them international tourists. This adds another layer to the public transport systems as they need to be easy to understand and use for people who do not necessarily speak English as a first language, but who are keen to get around cost-effectively and quickly.
Reducing Car Traffic and Emissions
The centre of Cambridge is a designated clean air zone. With numerous green spaces and an extensive green belt surrounding the city, there is a clear imperative to reduce emissions and promote further healthy spaces in the city.
Cambridge's city layout, alongside the clean air zone initative, acts as a deterrent on people wanting to use private transport. With difficult roads (narrow, cobbled, often one-way) and restrictive, often paid parking, private transport is often not ideal for travellers.
These passive deterrents (or push factors) work alongside proactive schemes in the city that encourage people to choose public transport and other low-emission travel methods, such as park and ride services.
The next stage of park and ride
Park and ride services are a great example of how to kick-start an approach to joined up transport services through convenience. Straightforward pay and display parking with clearly marked and frequent bus services to key locations in and around the city make the park and ride model highly appealing.
To advance the system, creating a park and travel initiative would be the next step, encouraging people to reduce their private car use even more so, and instead access a complete joined-up system all through one simple payment and booking system.
Park and travel could look to include:
Parking (pay and display) outside of the main city centre, easily accessed from main roads.
Bus services (into, out of, and around the city, with an all day frequent service).
Local rail services, including commuter packages.
Micromobility or bike hire.
Critical to the success of a scheme like this would be simplified payments and ticketing – such as the option to purchase a travel ticket that allows access to all of these methods, and to add or remove services as required via a smart phone app without hefty booking amendment fees or the threat of fines.
Increase Availability and Accessibility of Public Transport
Although Cambridge has a well-established bus network, there is always more that can be done to improve availability and accessibility. For example, recent changes to the commuter route the X5 prompted outcry from villages that were losing their main fast route into the city. It was replaced with a slower and less frequent service with fewer on-board facilities as well, without any change in cost to passengers.
There are plenty of university and technology park bus services, often with student discounts available, which helps students and staff travel in green and cost-effective ways. Extending these services to the general public, alongside keeping fares low, is a great way to encourage people to travel by bus more. An additional layer would be to create a simple ticketing and payment system, run off a live-update app, which allows people to board buses without overcrowding services, and book tickets easily at the best prices available. Reducing and live-monitoring overcrowding has additional benefits in appealing to non public transport users. It makes journeys more pleasant and can alleviate COVID-19 related fears that have arisen around public transport use.
While services are generally regular and run to late times on popular routes in the city, the wider villages and towns lack this level of flexibility in travel. Smaller villages in particular have very limited services in evenings, creating issues for those who work unsocial hours or are on shift patterns, including key workers. Ensuring a bus service is in operation equally across the towns and villages where many commuters reside is essential to pull more people towards bus travel and away from their private vehicles.
Greater options for joined-up travel, such as bus, micromobility or on-demand ride hailing services could help improve connections for the outlying towns and villages. Ensuring that the cost of running these services does not negatively impact on the users (such as through high fares) is critical to the success of uptake. Having easy to use booking systems and flexibility in choosing the modes of transport you want to use is also essential to long-term success.
Micro-mobility and on-demand services
Bike hire is already popular in the city, but making it centralised and simpler, as opposed to through private shops and owners, would increase people's uptake. Cambridge's affinity for cycling could easily be adapted to suit micro-mobility services such as e-scooter and e-cycle hire. With an already established infrastructure that suits bikes, the city could introduce drop off/pick up points for hire of scooters and cycles and charging points relatively easily.
In 2020 there was a trial launched of e-scooters in the city to see how residents, commuters and tourists used and approached micro-mobility hire. The trial is due to end in Spring 2022, with results and further rollout likely to be confirmed later in the year. Although there is often contention around the use of e-scooters (due to their speed and lack of regulation at present), if laws can be effectively enforced and users monitored through data collecting apps, the potential for improved and cheap mobility is huge.
Digital payments and mobility-as-a-service approaches
With all these advances and developments in public transport, regardless of which city we are discussing, there needs to be an overarching system which ensures clear, fair and easy to use payment systems are at the heart of public transport. Reducing confusion and promoting clarity over timetables and fares and creating a service which delivers for those in cities and rural locations are core to encouraging more people to choose and use public transport.
While many UK cities (such as Manchester and Bristol) are looking to embrace as mobility-as-a-service (MaaS) approach to public transport, there are plenty of cities globally who have already activated such plans. Creating seamless end-to-end journeys for customers starts at the very first stage of a journey – buying and booking tickets. When this stage is done correctly, delivering the physical services themselves all falls into line.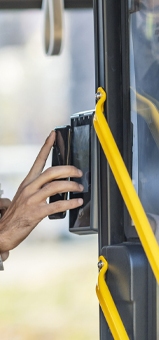 Zurich, Switzerland not only has a highly efficient and punctual public transport network, it has also developed a 'Swiss Travel Pass' offering. This connects everything from the inner city to local towns and villages, through a complete transport network including trains, buses, boats, and trams. With a unified public transport system, all forms of transport are run from one central location, making ticketing and payments a simple, straightforward affair.
Singapore has also invested extensively in creating public transport systems that are backed and supported by extensive user data, allowing them to deliver a world-class service. Their EZ Link card is connected to a mobile app and trip planner, allowing customers to access travel information and updates, as well as quickly plan, book, and pay for travel all from one location. By using a single unified app approach, Singapore is able to refine the public transport system to fit the exact needs of this quickly growing city, with data to back up their findings.
While Singapore and Zurich are both young cities in comparison to Cambridge, they still have to manage cultural and historic sites of importance, geographical restrictions, and economic considerations too. Ensuring the public transport network available is fit for purpose for the users is not the remit of brand new ultra-modern cities. Instead it is clear that regardless of location or age, cities have a responsibility to ensure that travel in and around them is befitting to the people who want and need to use it. Apps and digital payment systems are by far the most powerful tool in shaping the future of public transport, thanks to their data-driven approach and streamlined user experiences.
Ensuring that cities with historic and cultural significance are protected for the future by creating green, fair, and easy-to-use systems of travel will allow more people to enjoy these places without further stretching outdated architecture. Smart systems of payment and a mobility-as-a-service approach will allow the future of public transport in all locations to be realised and implemented for the benefit of everyone.
23.02.2022
---