Although the "In-Motion-Charging" (IMC) technology was tested for years and is already in regular use by quite a substantial number of existing trolleybus operators around the world, the very first newly-built IMC-trolleybus system of its kind is now in operation in the Czech capital.
A stretch of 0.8 km on Prosecká street was equipped with the traditional trolleybus overhead, and an official opening ceremony took place on 15 October 2017. What followed was an intensive testing, partly with passengers onboard. On 01 July 2018, the regular revenue service was introduced on the new line no. 58 between Palmovka and Metro Letňany with a total length of 5 km.
For testing purposes a prototype of the SOR TNB 12 battery-trolleybus with Rail Electronics electrical equipment was in use from day one. However, this vehicle (no. 9505) was returned to Brno, where it had been in operation some time before. A new battery-trolleybus with the same bodywork form SOR, but electric components from Škoda Electric, was supplied as a substitute to the previous bus and it started operating in May 2018 (no. 9506). It is labeled model 30Tr.
The IMC operation proved to be successful, and Prague's operator DPP approved the conversion of the previous diesel bus fleet on route 140 between Palmovka and Čakovice/Miškovice into a battery trolleybus route using the IMC technology. Three sections of overhead (including the existing steep Prosecká section) totaling some 7.8 km were converted, representing approximately 40% of the total length of the route.
As articulated buses still operate on line 140, the purchase of some 15 articulated electric vehicles is planned and a tender process will be finalized shortly. For some weeks in the spring of 2019, Škoda Electric presented one of its brand-new 27 Tr models (with Solaris bodywork) for PMDP (Plzeňské městské dopravní podniky), which operated as trolleybus no. 9000 in Prague before moving on to Plzen (no. 583).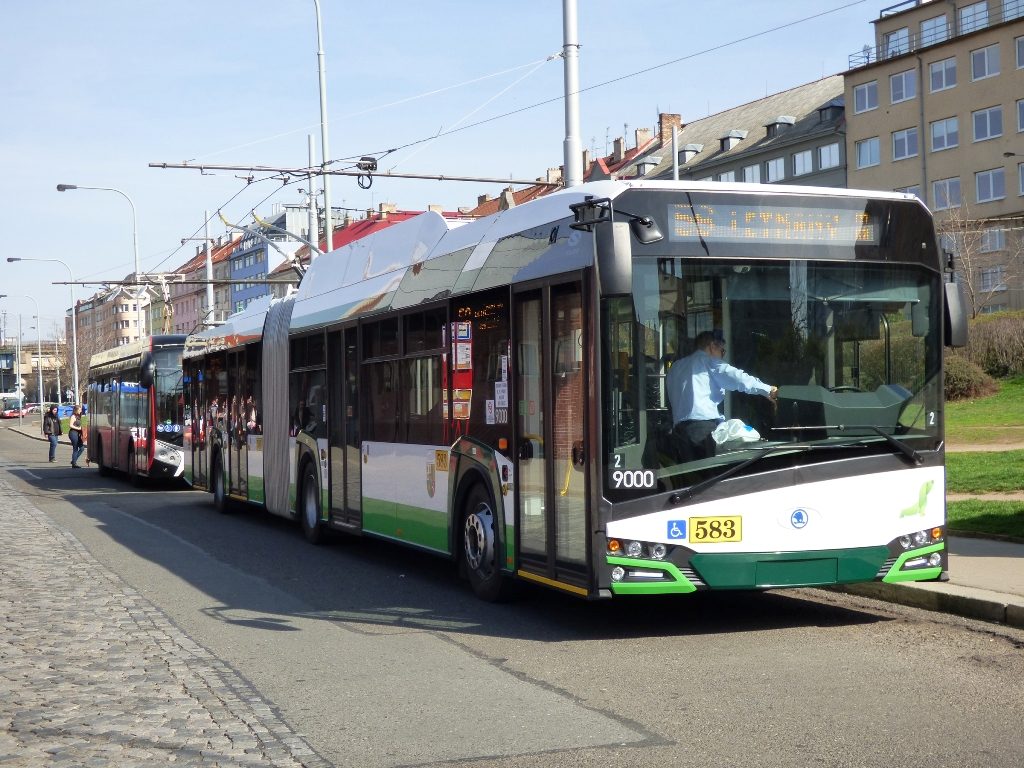 The most recent plan foresees the partial electrification of bus route 119 between Metro Nádraží Veleslavín and Airport Ruzyně, using also the IMC technology. The electrification of further lines is envisaged over a period of 5-7 years.
A detailed article about the development was published in Trolleybus Magazine no. 341 (Sept. 2018): http://www.trolleybus.co.uk/nta/magazine.html
A complete overview of the IMC operations in the country is coming soon on the UTM webpage.
20.08.2019
---