After the withdrawal of the majority of the series of originally 59 units of Kölner Verkehrsbetriebe's (KVB) first-generation light rail vehicles type B in 2007 and 2008, the last four are still going strong and operate on KVB's network today. But now, after 14 years as outsiders, the end of their operation life is near. In April 2022, after 45 years of service, it should actually be over, if the corresponding number of new high-floor vehicles of the type HF6 from Bombardier (today Alstom) is ready for operation by then. However, after the rapid start of delivery of the series-produced vehicles from mid-January, it does not look like very likely, so that the "almost old-timers" will have to continue doing their rounds..

A brief review: The light rail vehicle, type B, also known as the "Cologne design", was created at the beginning of the 1970s as a kind of compromise vehicle as the originally planned type A light rail vehicle composed by two four-axle cars did not materialize. The shorter, six-axle articulated model "Stadtbahnwagen Typ B" was developed and the first prototypes delivered to Bonn (1 vehicle) and Cologne (2 vehicles) in 1973. After planning and construction of the A coaches did not progress, but the first lines were completed, the state finally decided to use the type B of the Rhine-Sieg region in the Rhine-Ruhr area as well. Declared as a "temporary solution" in both operating areas, the Type A did not get beyond the model stage and further work on it was eventually discontinued.
Not only active in Cologne
Subsequently, Bonn received a first series for the imminent opening of the first tunnel line as early as 1974, which was followed by a second series for Rhein-Ruhr's first "pioneer" line between Essen and Mülheim in 1975-76, at the same time as further Bonn cars. Although Cologne initially lacked an adequate operational area, a first series of 27 vehicles were delivered in 1976. Another 25 units followed in 1977, five of which were hired by the neighbouring Köln-Bonner Eisenbahnen (KBE) railway operator, followed by another five for the KVB in 1978. This meant that a total of 59 Typ B were available in Cologne.
A suitable area of operation did not arise until 1978 when the KBE Rheinufer (Rhine bank) railway line between Cologne and Bonn via Wesseling was converted into light rail operation and extened at both ends to the existing networks. Now the Cologne vehicles (KVB and KBE), painted in the red and white colours, also came to Bonn, just as the Bonn Typ B could be seen in Cologne. After the prototype and the first series of 17 vehicles, the two Bonn operators SWB and SSB had received a further 22 units between 1974 and 1978. In 1978, Essen also received another eight vehicles, which, however, differed from the previously delivered cars by having different door layout.
End of service in Cologne in 2008 – partly new home in Istanbul
Cologne lost three series-production vehicles by fire in 1996 and 1998, and the two prototypes were also no longer used in regular service. The remaining 54 units were in passenger service until 2007. The separation of the north-south sub-network and its conversion to newly delivered low-floor cars then released larger numbers of vehicles. 32 of them were sold to Istanbul in Turkey in 2007 and 2008, where some of them are still in service today. A further 17 units were scrapped in Cologne, partly to obtain spare parts for the vehicles that had been sold.
Thus, just seven units were left over in Cologne: 2012, 2031, 2032, 2035, 2044, 2049 and 2098. Of these, Tw 2012 has been a historic vehicle since 2007 but is also used by the driving school, 2044 served as a works car from 2006 until its retirement in 2015, and no. 2098 suffered fire damage in 2009 which led to its retirement.
Long-lived remaining quartet
The quartet 2031, 2032, 2035 and 2049 remained in passenger service many years more. With the exception of no. 2035, the three Typ B were gradually adapted to the new design in light grey with red front cover design between 2011 and 2015. Only no. 2035 remained in the old colour scheme before it too was repainted in June. Only no. 2012 now part of the heritage fleet retains the old livery. Nevertheless, no. 2035 differed from its three fellow trams in that its light strip on the front was not light grey as usual, but also red.
At the beginning of 2021, no. 2031 had to be set aside with damages, and in view of the imminent end of service, no repairs were carried out. The three remaining units have now been taken out of the normal service schedule, but are usually still in service as single units on the short line 17 (Severinstraße – Rodenkirchen or Sürth), where they can still be seen every day. Mostly two of them run there, but sometimes all three. Damage to the paintwork and doors that has not been repaired, but also the general state of maintenance has been somehow better in the past – the end is near!
Still active in the Ruhr region
If you still want to enjoy the driving experience of the 1970s with the first generation of Typ B units, you can still do that at the Ruhr area. In Dortmund, the 1974 vehicles taken over from Bonn in 2004 are still running on U42 until larger numbers of the new light rail vehices ordered from HeiterBlick have been delivered. Ten units were adapted for use in Dortmund, a further three, including prototype 7351, served as source of spare parts. Originally they were painted in blue for the public utility company, but have since been given the current white and red livery. The doors, the single-arm pantograph and the small destination plate box also differ from the operators original Typ B cars.
Ruhrbahn still has all of the 1976 to 1978 cars in service in the Essen-Mülheim area. However, they have lost their classic driving sounds due to a conversion from switch gear to chopper control in the 1980s. They are also in service on the Ruhrbahn in new livery, which changed over several intermediate stages from the once planned standard colour of red and white, based on the Cologne model, to yellow and black. The successor generation could only be ordered recently, so that the first generation Typ B will still be "on track" in Essen and Mülheim for quite some time.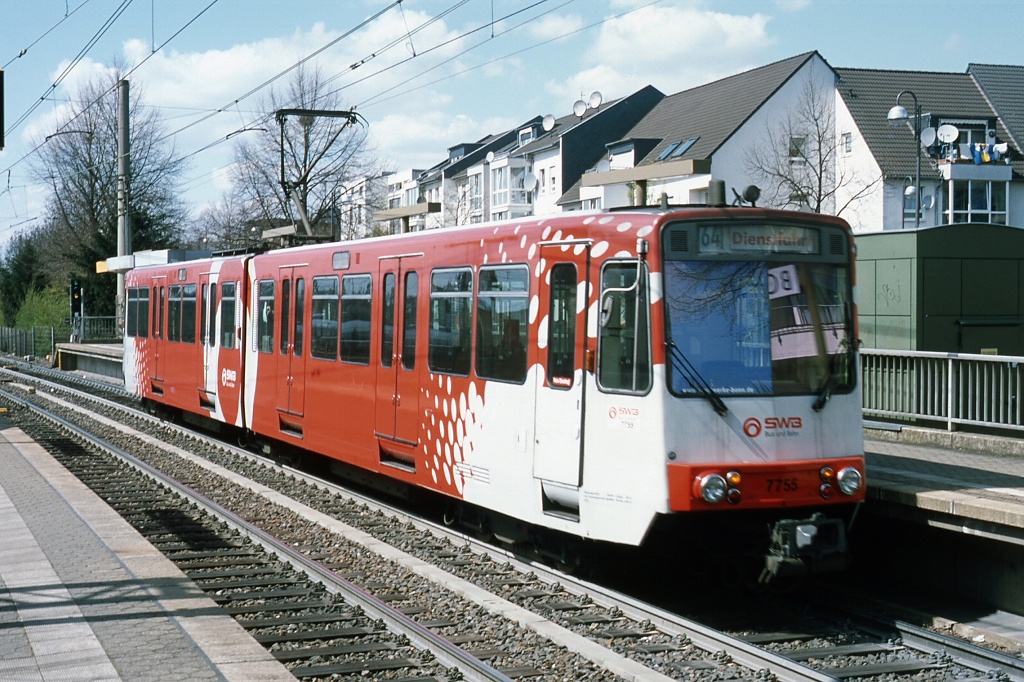 In Bonn only two first-generation units (no. 7577 and 7757) still exist in their original condition. Another three have already been stored in preparation of the upcoming modernisation.
The non-modernised Bonn light rail vehicles are also the last ones to use rolling tapes for line and destination signage. In the other first generation operating companies, they received electronic displays over time. The KVB museum car 2012 is also equipped with them and is therefore no longer in its original condition. However, reconstruction is being considered.
03.05.2022
---