Today, the international UITP public transport summit has started in Stockholm. Urban Transport Magazine collected the most important information and highlights – an overview:
Why participate?
The UITP Congress is a global and unique platform for all public transport professionals. It is both a summit and exhibition with a mix between speeches, exhibitions and presentations on the latest innovations, solutions and products. UITP, the Brussels-based global union for public transport (Union Internationale pour le Transport Publique) covers all urban and regional transport modes. The congress sessions offer a forum for transport ministers, mayors, operators, transport authorities, industry representants, urban visionaires, urban transport entrepreneurs, ITS experts, business developers and other functions to learn and exchange the latest development in the public transport sector. The UITP summit takes place every two years and brings together decision makers and international public transport operators. Alongside 350 exhibitors there will be more than 15,000 participants at the UITP summit in Stockholm. Every two years, UITP chooses a different location for the Global Public Transport Summit. This year's summit takes place on 9 – 12 June 2019.
The theme of this year's event is 'The Art of Public Transport' and is all about aspiring to excellence in crafting and delivering public transport services. Art can take on many forms and according to the organiser's, art can be found in shapes, in colours, in sounds or movements. Therefore, art can also be found in the perfect urban journey. At the end, everybody involved in public transport, from the passenger to the driver to the planner to the operator to the manager, are taking part in the artwork. As a summary, in all areas of the public transport sector, "mobility artists" are constantly evolving and designing the mobility of the future. The art of public transport is also reflected by this year's branding campaign, showing pictures of generic transport images in front of iconic places – such as the decorated underground stations of Stockholm's Tunnelbana. UITP 2019 has been designed around the following seven topics:
Customer service excellence
Planning and governance for improving quality of life in cities
Mobility as a Service (MaaS) and the new combined mobility paradigm
Attracting new talents and skills
Operational excellence
Funding and financing
Harvesting innovation
How to get there:
The UITP 2019 takes places in the Stockholmsmässan which is located right next to the train station Älvsjö. The Stockholms pendeltåg which is Stockholm's commuter rail, directly connects Älvsjö to the city centre. The travel time from Stockholm Centralen is 9 minutes. Trains are running every 4 to 6 minutes. All ticket and fare information can be found here: https://sl.se/en/fares–tickets/
The programme
The UITP offers both congress sessions, an exhibition and further activities around the 4-day program such as innovation tours and technical visits. A detailed programme overview can be found here (https://uitpsummit.org/programme/). All event and background information can also be found on the event's App which can be downloaded here: https://www.uitp.org/MyEvents-app
More than 90 sessions are offered during the four congress days which are divided into the following fields:
Plenary Sessions are designed for all Congress attendees. High-level speakers address major and/or transversal topics on public transport.
Lunch Sessions: During lunch time, the so-called lunch session offer presentations and discussions on transport policies, innovation among others. As lunch sessions have limited seats, access is given on a first-come, first-served basis.
Expo Sessions are accessible for everybody on the exhibition area, exhibitors present their technological solutions and latest developments from the public transport industry
Studio Sessions on the Exhibition feature speeches and discussions with speakers from start-ups from The Studio area of the Exhibition. The studio area is taking place for the first time at this year's UITP. It offers non-traditional transport players to showcase innovation and what they bring to the urban public transport sector.
Workshop Sessions offer the possibility to discuss, debate and network on different topics.
Poster Sessions: This year, over 66 speakers will be participating in 11 poster sessions. Here, the newest innovations and research topics in urban mobility are presented.
Many of the sessions are simultaneously interpreted in one or many of the following languages: Chinese, French, German, Russian and Spanish.
The UITP Awards
The UITP awards are the "Grammy's" of the public transport industry. An exclusive international jury will assessed the submissions in the following fields. The winners will be presented on Wednesday 12 June 2019. This year, the UITP awards cover the following fields:
Diversity and inclusion
Marketing campaign
Multimodal integration
Operational and technological excellence
Public and urban transport strategy
Smart funding, financing and business models
Young researchers
The Test Drive Zone
A summit about public transport without moving passenger vehicles wouldn't be uncomplete. Therefore UITP is setting up the so-called Test Drive Zone. Here, visitors have the opportunity to ride electric buses and autonomous vehicles in a dedicated outdoor parking area.
The exhibition
Besides the summit, visitors will see the latest innovations and products at the Exhibition with over 350 exhibitors from over 35 countries. Urban Transport Magazine researched the highlights exclusively for our readers:
ABB will present numerous technologies in the field of electrification and infrastructure, such as charging stations for electric buses, energy storage systems, catenaries and components for electrical drives.
Alexander Dennis has been recently acquired by the NFI (NFI, an initialism of the company's former name, New Flyer Industries) group from Canada which is one of the leading bus suppliers in North America. Alexander Dennis is a global leader in the manufacture of lightweight, fuel-efficient midi and double deck buses. This year, Alexander Dennis will showcase its Enviro500 doubledeck bus.
Alstom is showing green, fluid, safe and inclusive mobility. From its' vast mobility and rail portfolio, one of the highlights will certainly be the innovative APTIC and the SRS, a ground-based static charging and power supply system for trams and buses. Another highlight is StationOne which is an online market place for operators and professionals. Products, such as spare parts, and services can be easily purchased via the online shop.
Ballard is becoming an increasingly important supplier of the public transport industry. As a provider of fuel cells, Ballard has established itself as a provider for both fuel cell buses and trains. The newest fuel cell, called FCmove, will be presented in Stockholm.One of the newest developments in the area of fuel cells is the so-called H2Bus Consortium which as recently been founded. The consortium includes Everfuel, Wrightbus, Ballard Power Systems, Hexagon Composites, Nel Hydrogen and Ryse Hydrogen. The partners committed to deploy 1,000 hydrogen fuel cell electric buses, along with supporting infrastructure, in European cities at commercially competitive rates. It has been communicated that this hydrogen fuel cell electric bus solution will be the most cost-effective zero-emission option available, with a single-decker bus price below €375,000 after funding, a hydrogen price between €5 and €7 per kilogram and a service cost of €0.30 per kilometre.
Bombardier Transportation, as one of the largest railway solutions providers and manufacturers worldwide, is showcasing its' innovative product portfolio in the exhibition and on rails outside the fairground. The newest MOVIA C30 metro for Stockholm has just been delivered and will be running on Stockholm's metro network. Further to this, the newest developments in battery propulsion for rail vehicles will be presented. The TALENT 3 Battery Train is currently being tested in Germany and will be able to replace Diesel trains.
Caetano buses from Portugal will present its' e.City Gold electric bus which is powered by a permanent magnet motor by Siemens.
CAF is growing to a global player for rail and transport solutions. With the procurement of Solaris Bus & Coach, CAF now offers a wide range of mobility solutions from buses to high speed trains. A part from vehicle solutions, the company will show its' newest developments in the field of digital technologies. CAF's new LeadMind Platform has the objective to deliver new services, through the collection, storage, advanced processing and analytics of all the data that the train currently generates in a cyberse­cure way. The LeadMind Platform proides added-value information in a friendly format and deci­sion-making tools to ease the decision making process by the different actors involved in the railway operation.
EasyMile will show its' autonomous EZ10 shuttle and also offer fleet management applications for its' customers.
The Evobus GmbH is Daimler AG's largest European subsidiary and consists in the brands Mercedes-Benz, Setra, OMNIplusand BusStor After the official presentation of the first Mercedes Benz electric eCitaro, the supplier will present all the advantages of its' new flagship. Until now, already 113 eCitaros have been sold to different cities in Germany.
Keolis is not only the operator of Stockholm's bus network, but it is also a provider in shared mobility. Keolis showcases its expertise in integrated multimodal transport networks as well as its latest innovations such as smart cities and innovations, energy transition, mobility as a service (MaaS), autonomous vehicles and consulting.
INIT is one of the most established suppliers in the field of public transport for passenger and operational ticketing and information systems. Further information can be found here: https://www.initse.com/ende/uitp2019.html
Navya has been revolutionising the field of public transport with the launch of the autonomous bus shuttle. The shuttle will be displayed in the Test Drive Zone. So far, Navya already solt over 89 shuttles in 17 countries.
The RATP is not only the operator of Paris' public transport system, it is also a one of the big players of the global transport industry. RATP Group operators transport systems worldwide and also gives technical expertise and consulting services. Several workshops and conferences will be held at the RATP Group's booth.
Scheidt & Bachmann has been known for years as a supplier for ticketing solutions. Its' newest product is the so-called FareGo Virtual Ticket Agent (ViTA). It supports transport operators in improving customers experience when buying a ticket at a ticket vending machine. FareGo ViTA transformsFareGo ticket vending machines (TVMs)into fully operational ticket agencies, offering passengers face-to-face remote assistance via live-chat functionalities to help them buy their tickets. Besides simple advice ticket clerks can also remotely control the TVM's user interface.
Scania, as a traditional Swedish manufacturer of buses and commercial vehicles, will be showcasing its' newest development in the field of buses. With the increasing demand for low-emission buses, Scania will highlight examples of how alternative fuels and electrification can make the city more accessible, as well as showcasing how Scania products and services can be used to help establish public transport that is flexible, cost-effective and sustainable. A technical visit on the production and usage of biofuels is organised by Scania on Thursday 13 June 2019.
Siemens has developed a driver assistance system for trams which is the basis for autonomous operation I Siemens
Siemens is showcasing the latest trends and developments in the field of digitalisation, connected mobility and energy efficiency. During the past years, the company has developed a vast portfolio around the areas of MaaS (mobility as a service), partnering with transport planners and IT-developers in order to offer the best connection between existing public transport modes and new modes such as e-bikes, autonomous shuttles. According to Siemens, an important link between the transport modes are Mobility Apps. Siemens does not only offer such apps, but also works on data analytics in order to determine patterns of mo­bility demand and their impact on the transportation network. With the use of Mobility Data analytics, demand-responsive transport (DRT) solutions can be offered and implemented. Further to this, Siemens is presenting the autonomous tram driver assistance system, the fully automated Val peoplemover, the Desiroand Mireo Regional Train platforms, alternative drive systems and digital vehicle technologies.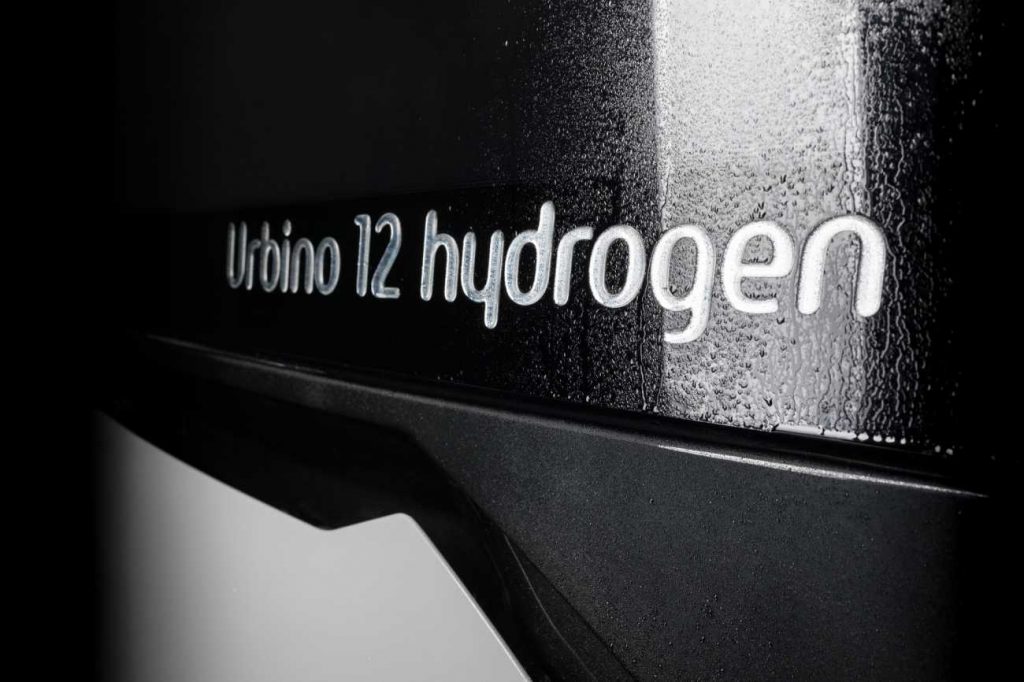 Solaris, now part of the CAF Group, will unveil the Urbino hydrogen bus for the first time. Having supplied a large number of electric Urbino low-floor buses already across Europe, the bi-articulated Urbino hydrogen is fitted with a fuel cell, ZF AxTrax and a battery for boosting and recuperation.
Stadler is presenting its' product portfolio for modern rail vehicles including trams, metros and regional trains. One of the latest achievements is the order of the Metropolitan Atlanta Rapid Transit Authority in the USA for the supply of 254 metro cars, with options for up to 100 additional cars.
Thales, a supplier for signalling and communication solutions, is presenting its' portfolio such as the CBTC (Communication Based Train Control) with SelTrac ™ G7, digital services, signalling solution for trams and light rail systems, predictive maintenance systems and IoT (Internet of Things) applications for transportation solutions.
Trapeze offers a vast range of IT-solutions for passenger transport. For operators and transport authorities, the company will showcase Intelligent Transportation Systems including planning, scheduling and operational systems, Depot & Fleet Management and Real-time Passenger Information as well as Fare Management and MaaS (mobility as a service) applications. One Trapeze's innovations is the new "PitStop" se­ries which allows transport service providers to monitor the condition of their fleet with efficient control of resources for maintenance. PitStop currently consists of three solutions that can be used individu­ally or in combination: Trapeze's Enterprise Asset Management Smart­TEAM helps transport service providers to manage the condition of their vehicles. The SmartMonitor is a software for vehicle status mon­itoring that gives transport service providers a better overview of the technical status of their entire fleet. SmartParking is a parking space and depot management software that provides a comprehensive, de­tailed overview of the locations of the vehicles within the depots and parking areas.
Van Hool has been selling the modern Exquicity bus rapid transit as electric, fuel cell and trolleybus for a number of years. The modern looking bus is available as an articulated and bi-articulated bus. On Monay June 10 2019 the first of a total of 40 fuel cell bus for RVK (Regionalverkehr Köln GmbH) Cologne will be handed over officially.
Volvo buses, one of the key suppliers for buses in Sweden, is showing its' versatile Volvo 7900 bus platform which is available as hybrid and electric bus variants for charging stations or overnight charging.
VDL is one of the leading suppliers of electric buses and will also showcase the latest of its' electric Citea buses in Stockholm. The experience of electric bus operation from Cologne, Eind­hoven, Amsterdam, Oslo, Osnabruck and many other cities across Eu­rope will be showcased as examples.
Voith Turbo is known for its electro-mechanical components for rail vehicles and buses. The Germany-based company is now also offering electrical drives for city buses. The fully electric Voith Electrical Drive System (VEDS) is the first manufacturer-independent complete system, including the drive components, control of the auxiliaries, high-voltage distribution, cooling system and wiring of all these components. Additionally, the plug-and-play roof rack makes it easy for the customer to integrate all of these components into vehicles without a big effort. The water-cooled permanent magnet motor has a high power density and can be used in single, articulated and double decker buses. Voith Turbo also brings an innovation for railways to Stockholm. The Smart Schaku coupler enables operators to monitor the status of the couplers in real-time and make better decisions concerning maintenance, repairs and replacements. Information from the coupler is sent to the cloud and combined with the vehicle operation data. Furthermore, Voith Turbo is also going towards digitalisation. Voith and Pilotfish announced their strategic partnership in January 2019. As one of Europe's leading providers of on-board IT systems and applications, Pilotfish has already installed systems in over 10,000 buses, trains and trams, in multiple countries. Based on an open standard vehicle communication platform, the company provides applications, hardware and consulting in a portfolio that includes, e.g., eco-driving, tachograph download, automatic fault report, navigation and automatic vehicle data transfer directly into cloud-based analytics. The technology and domain knowledge of Pilotfish complement Voith's activities in the mobility sector.
10.06.2019
---