According to the Swiss newspaper Tagesanzeiger of July 22, 2019, the private Austrian railway undertaking Westbahn sells its 17 double-decker "Kiss" trains to Deutsche Bahn AG. Reports say that Deutsche Bahn has a shortage of rolling stock and is thus not able to offer the foreseen Intercity schedules in Brandenburg, Saxony and Mecklenburg-Western Pomerania.
Westbahn fights a ruinous price war against Austrian Federal Railway ÖBB on its 317 km long parade route between Vienna and Salzburg and has already lost 80 million euros in the eight years of its existence. Since Deutsche Bahn experiences an emergency it can be assumed that Deutsche Bahn pays a rather high price for the immediately available trains. Westbahn will initially deliver eight trains to Deutsche Bahn and thus halve its fleet, which corresponds to a thinning of its regular interval timetable offer from half-hourly to hourly services. At the same time, Westbahn is ordering new Kiss 3 trainsets from Swiss manufacturer Stadler. They are likely to be reasonably priced, as they can be produced together with a current order for the Hungarian State Railways. At the same time, lending rates are very low today and the whole package may become a financial turning point for Westbahn.
The Chinese CRRC has also applied for the Westbahn order, but rumours have it that the European providers of the ETCS signalling system have boycotted CRRC. CRRC said to be able to deliver in time in 2021 like Stadler, but there were fears that the approval of these trains would have taken quite some time. Opinions are also circulating that the French SNCF, which holds 17.4 % of the Westbahn shares, has vehemently opposed a procurement in China.
Service start with DB in December 2019
The DB will receive the first trains already in December 2019 and will operate them as Intercity 2 on the new line Dresden – Berlin – Oranienburg – Rostock as soon as the required test and Training program is completed.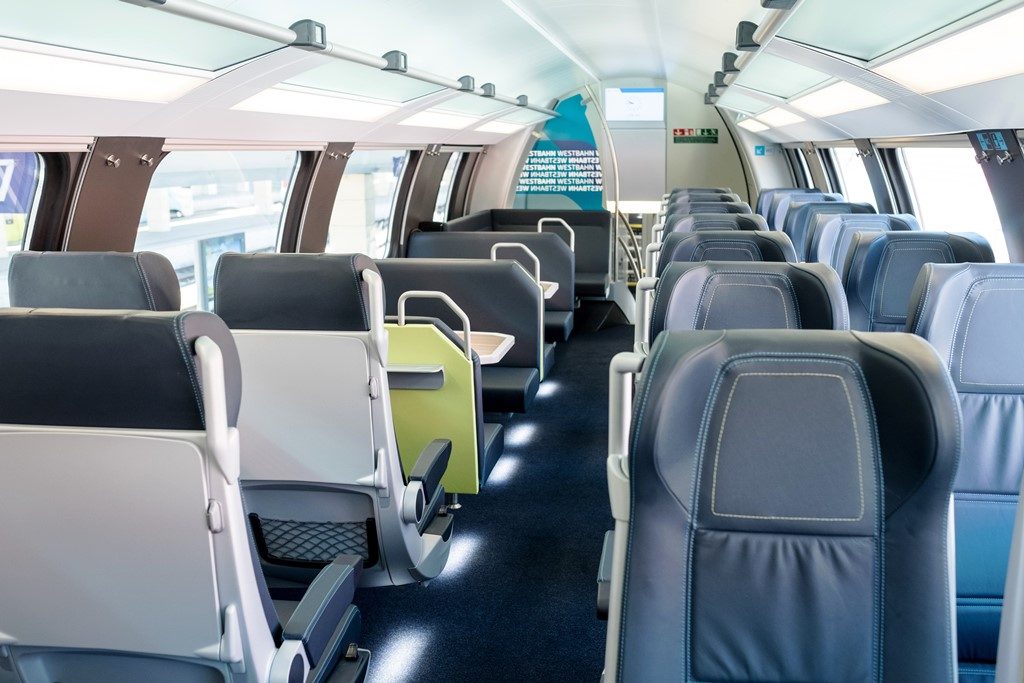 Although based on a regional train platform, the Kiss trains of the Swiss manufacturer Stadler Rail have a maximum speed of 200 km / h and consist of four and six cars with over 300 or 500 seats respectively. Starting in the spring of 2020, the trains will run every two hours per day and direction on the new Intercity line. In doing so, the DB is fulfilling its promise to re-connect the territorial states of Brandenburg, Mecklenburg-Western Pomerania and Saxony to the long-distance transport network. Until the trains are in use, the new line will be operated with Intercitys of the first generation.
29.07.2019
---