Since Monday, 17 June 2019, Strasbourg's tramway system has gained another 1.6 km in length. On that day, the extension of the tram line E and the new bus offer has been put into service to serve the heart of the Robertsau and the municipality of La Wantzenau in Strasbourg, France. Both districts are located in the nord-east of Strasbourg close to the French-German border. The tram only ran until the city border. Many commuters had to change from tram to bus in order to reach their final destination. The time-consuming interchange is a thing of the past now: The extension of the E tram in the heart of the Robertsau district offers a direct connection to Strasbourg's city centre. The restructuring of the bus network allows to ensure optimal complementarity between the two modes of transport. This reorganization is also an opportunity to strengthen the public transport offer of the neighbouring town of La Wantzenau. The official inauguration of the inauguration took place on Saturday, June 22, 2019 and was accompanied by an open event to the public.
Three new stops
The tram service extends to the heart of Roberstau via a green right-of-way track, improving the landscape of the neighbourhood. Thanks to the new tram connection, the travel time from Strasbourg's central "Place de la République" to the new terminus "Robertsau L'Escale" takes only 15 minutes. The total construction cost for this project was 19.5 million EUR.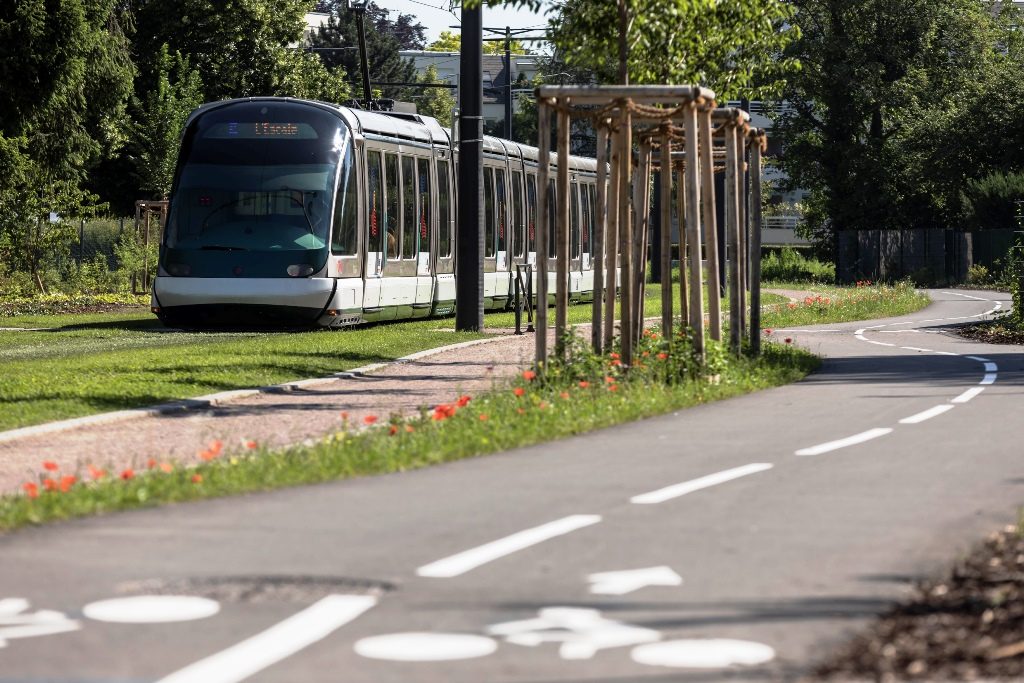 The E tram line has been extended by 1.6 kilometers from the existing terminus Boecklin until the rue de la Papeterie in the north of Robertsau. Three new stations have been introduced:
"Jardiniers"
"Mélanie"
The new terminus "Robertsau L'Escale"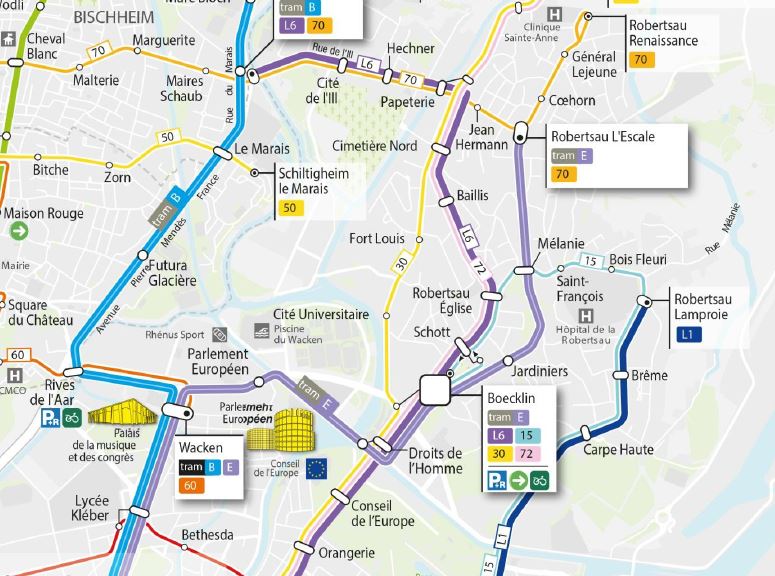 Strasbourg – the success story so far
Strasbourg's tram system is a real success story. Since the opening of the first modern 9.8 km tram line A in 1994, the network has been expanded to a total length of 50.5 km in track length and 70.7 km in terms of line length with a total of 6 lines. The last inauguration even includes a border-crossing to the German city of Kehl on the Eastern side of the river Rhine with two respective inaugurations: the 2.7 km extension from Aristide Briand to Kehl Bahnhof (Germany) opened on 28 April 2017 and the second 1.1 km extension from Kehl Bahnhof to Kehl Rathaus opened on 23 November 2018.
Passenger numbers have increased to 457,000 daily passengers on the entire tram network. The local public transport company, CTS Strasbourg, operates a fleet of:
14 Socimi/ ADtranz (now Bombardier) Eurotrams, built in 1994 – 1995, 33 meter variant
10 ABB/ Bombardier Eurotrams, built in 1998 – 2000, 33 meter variant
17 ABB/ Bombardier Eurotrams, built in 1998 – 2000, 43 meter variant
41 Alstom Citadis 403 (with swinging bogies in the endcars), built in 2005 – 2007, 45 meter variant
22 Alstom Citadis 403 (with swinging bogies in the endcars), built in 2016 – 2019, 45.5 meter variant
Further extensions
In the so-called second (2016 – 2010) and third extension phase in the years 2021 – 2025, the tram network will see the following expansions. However, several extensions will be built as Bus Rapid Transit (BRT, in France it is called BHNS = Bus à Haut Niveau de Service):
Line A to Zénith
Line C extension between Baggersee and Neuhof Rudolphe Reuss will be built as a BRT line: 5.2 km
Line C to Neuhof Stockfeld: 2.4 km
Additional alternative routes in the city centre to relieve the central crossing point Homme de fer including tram and BRT lines (a total of 16 km)
Two BRT lines between Neuhof and Meinau are planned as a ring line: 12 km
03.07.2019
---