From now on Urban Transport Magazine will report on a regular basis on innovations from the transport industry. Today, we are having a look at SIUT, a start-up from Berlin which was founded in 2015 and specializes in the production of light-emitting platform edges which are called light fiber concrete.
Everyone has experienced this or a similar situation at a platform: Which way to go, especially in the darkness? Or did you ever wonder where to position yourself at a platform in order to be at the right door position? There might be a solution to these issues thanks to SIUT's light-emitting platform edges and surfaces. SIUT is a scientific spin-off of the Technical University of Berlin from the departments of building materials and construction chemistry. The company was founded by Benjamin Westerheide and Vincent Genz. Both had integrated light fibers into concrete for the first time in 2012 in their garage. The background to this was provided by the cooperation with a professor of building material science specializing in concrete.
Today, the company develops and sells a composite material that, for the first time, enables light to be integrated into concrete. Light spots are integrated into the surfaces, but are turned off during the day. For the passenger walking on this surface, the light spot is neither visible nor does it influence the surface area. The SIUT light fiber concrete is characterized by a novel manufacturing process, which until then did not exist in this form on the market and is now patented in Europe. Via an innovation program of Deutsche Bahn, the focus has been shifted to infrastructure-relevant applications in transportation.
Versatile applicability
SIUT's light fiber concrete can be used in a variety of applications. SIUT initially focused on design and infrastructure. In the field of infrastructure-relevant products, SIUT differentiates between base plates with flashing warning signals for passenger guidance and dynamic displays. A first test was used in Berlin at Anhalter Bahnhof. This was an early test environment for guiding people. About 15 concrete tiles were installed to guide people using a simple, pulsating arrow pattern. The setup was in operation for three weeks, and it successfully tested how people react to light signals integrated into the ground.
The dynamic escalator surface display is already in use in the following cities today:
Dortmund (DB AG), S-Bahn stop Dortmund University
Hamburg (Hamburger Hochbahn), Fairground (Messehallen) Underground Station and Hagenbecks Tierpark Underground Station
Zurich (SBB), Zurich Central Station: The dynamic escalator display is in fact a concrete display in which the status information of the escalators are dynamically visualized. Due to the large format and the pulsating display, the signals easy to read from the distance and use passengers to orient. Passenger can be guided to other escalators during the rush our, for more efficient use or in order to avoid accidents and congestion.
Berlin (BVG), tram stop Zingster Str. in Berlin Hohenschönhausen, installed in November 2016 as test application and prototype of today's luminous platform edge. The terminus at Zingster Str. in Hohenschönhausen is a turning loop with double-sided arrival and departure platforms which often cause confusion for passengers. As an orientation, tactile stones with static light patterns in an arrow-shape show passengers the way to the departure platform. The system is connected to a light sensor which activates the system is activated at dusk.
Stuttgart Bad Cannstatt (Deutsche Bahn): As a pilot project with Deutsche Bahn, the first version of the luminous platform edge was installed at the Bad Cannstatt S-Bahn/ commuter rail station and operated for a total of one year. With the help of the light-emitting platform edges, passengers in Stuttgart Bad Cannstatt were informed about train stop positions, car occupation, door positions or train passings. Following the completion of the successful pilot project, the luminous platform edge was further developed and improved on the basis of feedback from this test.
In addition, SIUT's team is in talks with various operators in the DACH region (Germany, Austria, Switzerland) and Scandinavia as well as with potential customers from the Gulf region.
Within the next two years, the deployment for three Category 1 (so-called mainline) stations is already in the planning stage. In addition, several nodes are to be equipped on trunk routes in German cities.
In addition, public transport operators of the German cities of Munich, Nuremberg and Dresden have shown increased interest in using SIUT's products and discussions are also ongoing for an application in their respective networks.
What are the advantages of SIUT?
SIUT has for the first time launched a manufacturing process that enables the targeted integration of UHPC optical waveguides (Ultra High Performance Concrete); the European patent has now been granted.
By working with concrete, SIUT's products are equipped with properties that meet the high demands of exterior construction. Vandalism, harsh weather conditions or heavy mechanical loads are withstood without damage. The integration of light transforms concrete into a robust, versatile display.
Modular systems with few components, which are installed using a Plug & Play process, make SIUT's products easy to assemble and just as easy to maintain.
The use of LED technology ensures energy-saving and thus cost-effective operation of the concrete elements.
All signals are displayed over a large area and clearly legible on the concrete surfaces. In doing so, SIUT achieves an extremely good visibility and timely reaction of passers-by and passengers as well as improved processes at platforms, in train stations or in front of escalators.
Material and manufacturing process
SIUT products consist of concrete and integrated light stripes. For the first time, the company has launched a manufacturing process that enables the targeted integration of optical waveguides in UHPC (Ultra High Performance Concrete). The developed light fiber concrete is characterized by a novel manufacturing process that has not yet existed in this form on the market. Thanks to a newly developed guide system, the arrangement of the optical waveguides in the concrete interior can be carried out within the concrete body in a targeted manner. Thanks to the combination with electronic control, the material becomes intelligent.
Strategy and future plans
In addition to the projects mentioned above, which are due within the next two years, SIUT is currently working on the further development of its products and technologies.
Previously, concrete slabs were used as displays to visualize input and interpreted data. The patented composite concrete (light fiber concrete) from SIUT is now to be further developed into an intelligent, energy-efficient product. The company is working on the integration of various sensors in order to master not only data entry but also data collection itself. The goal is to develop products that interact with the environment while being easier to build.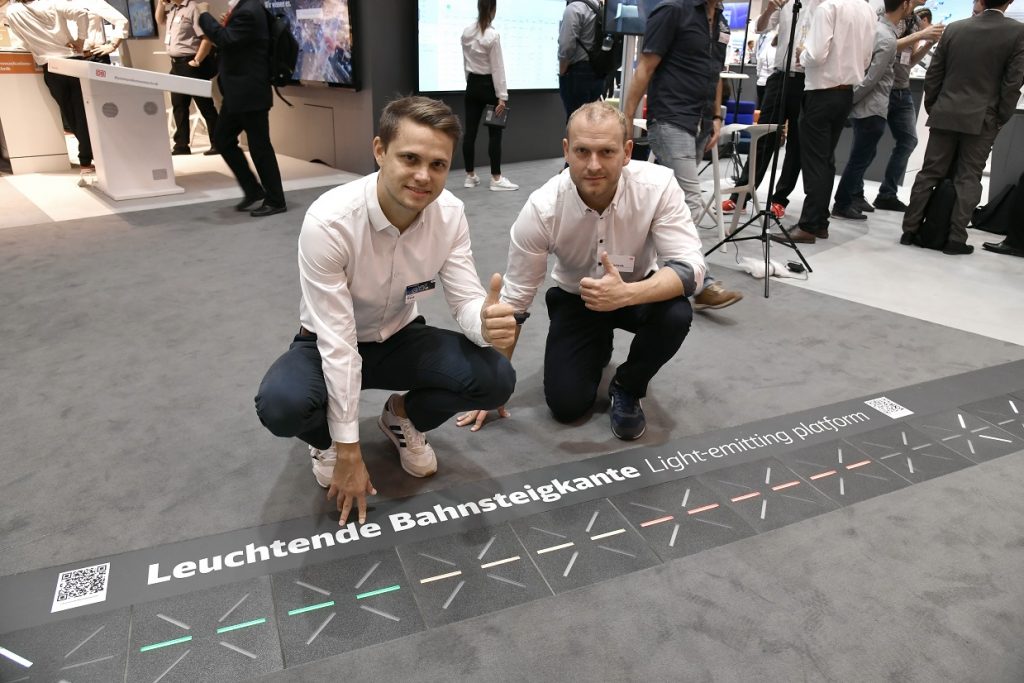 The team
SIUT currently has 10 employees and one or two students from relevant areas. In addition, interns from other European countries are working for SIUT regularly.
26.11.2019
---