A change in the municipal government of the North-Western Spanish city of La Coruña (A Coruña in local Gallego language) gives new hope for the small metre-gauge tramway system in the city. The line which operated as a tourist service along the attractive coast line of the peninsula where the old city center is located, stopped its service in July 2011 after a derailment of motor car no. 100. The accident did not have any serious impact, however, it raised serious questions about the technical conditions of the infrastructure. The closure was announced as temporary but the trams did not leave the depot ever since.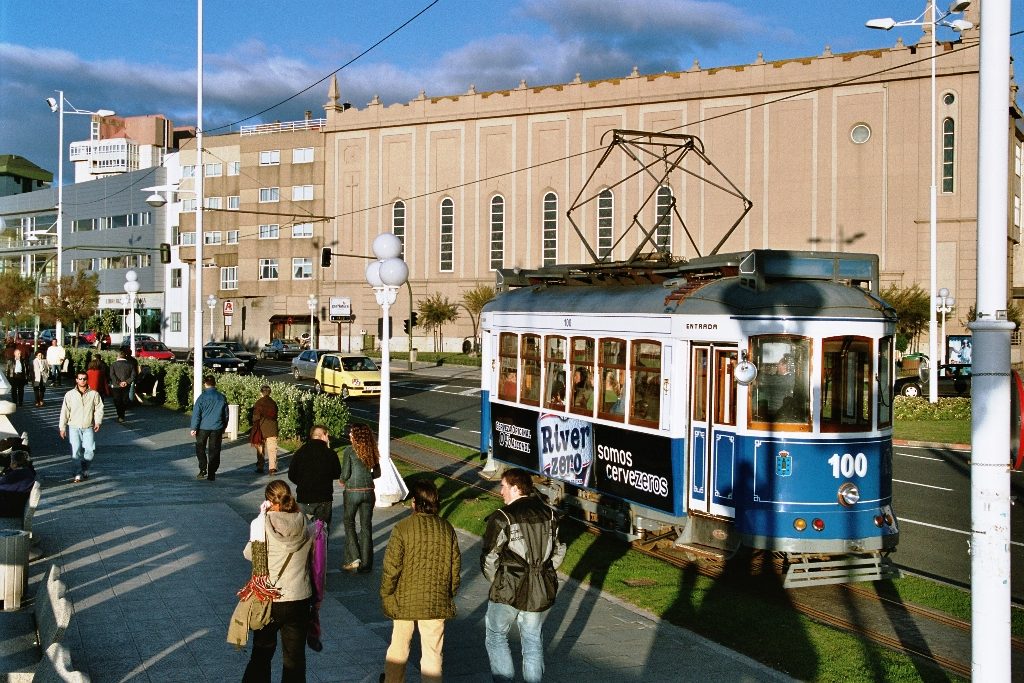 Several attempts to revive the well-received tourist service failed. Several years ago the municipality had already decided not to move forward with an initiative to reopen at least a part of the line. However, a recent change within the ruling political party of the city government brought new ideas to the table. The new mayor had included in his election program the plan to reopen the line as a tourist attraction with the long-term aim to use it as a starting point for a modern tramway in the city as a whole. These plans have now been formally presented to the general public. A survey by a local newspaper showed a widespread acceptance of these plans by the citizens. A detailed planning of the reconstruction of the existing tramway system as well as a redefinition of a more extensive future network are now underway.
The route was originally opened in several steps between 1997 and 2002 but its touristic potential was never fully exploited and the initial plans to integrate the line into a modern light rail systems had been abandoned a long time ago. As expected, the infrastructure of the tramway deteriorated quite substantially since the closure 8 years ago; some parts of the tracks and the overhead components were removed since then. The small fleet of only 5 operating tramways (1 original car, 1 rebuilt, 2 ex Lisbon, 1 ex Porto) are stored in the depot area without access to the general public.
03.08.2019
---