Yes, the "Grammy Awards" do exist in the Public Transport business. Every two years, the UITP Awards recognize achievements in the public transport industry. The bi-annual presentation ceremony features performances, technologies and achievements by transport operators, companies or institutions including researchers.
The UITP award consists in nine categories:
Design Processes and Products
Operational and Technological Excellence
Public and Urban Transport Strategy
Smart Funding, Financing and Business Models
The Jury
The jury of this year's UITP awards consisted in seven experts in the field of public transport and economy. Graham Currie, Professor of Public Transport and Director of the Public Transport Research Group at Monash University Australia. He is a research leader in his field and has been working for a number of public transport industry clients throughout the world. Richard Forster has been an editor and journalist for 20 years, having written for the Financial Times, Euromoney, IFLR and Project Finance magazines. Richard is Editor-in-Chief at PFD Publications, which launched Cities Today in 2010 as the first global magazine for decision makers in urban development. He has edited many publications focusing on cities for UN-Habitat, United Cities and Local Governments and the Federation of Latin American Municipalities and works as a consultant on urban affairs to UN-Habitat and the International Telecommunication Union. Abdul Aziz Abdulla Malik has more than 30 years of experience in bus and taxi planning and operation. He is now the Advisor to strategy and corporate governance sector at RTA, the Road and Transport Authority in Dubai. Abdul Aziz has taken active part in the preparation of the Dubai Master Plan, as well as the development of marine transport and the Dubai metro. He is also the founder and ex-Chair of UITP Mena Division and UITP MENA Taxi Working Group. Petra Mollet is the Vice-President Strategic and International Programs at the American Public Transportation Association. Having spent the past 20 years working on public transport issues, Petra remains deeply inspired by the creativity and passion of those working in this sector. José Viegas is a (retired) Professor of Transport at the University of Lisbon, and long-time friend and collaborator of UITP, working on multiple issues related to urban mobility. José has also worked for the OECD as Secretary General of the International Transport Forum, where he contributed to significant research for the modernisation of public modes of urban transport. Tom Wright is the President and Chief Executive Officer of Regional Plan Association (RPA), a private think-tank that makes long-term plans for the New York metropolitan region. Together with his team, Tom works with the major transit agencies in his region to advocate for resources, promote capital projects, and modernise mobility. Natasha Zulkifli is the founder and leader of Women in Rail Malaysia, a not-for-profit organisation promoting equality and diversity for women in the Malaysian rail industry. Currently working as the Executive Vice President in the President and Group CEO's Office at Prasarana Malaysia Berahd (a company providing bus and rail services), Natasha has many years of experience in public transport. She is passionate about supporting the career progression of women currently working within the industry and to promote the rail sector as a career of choice to young women.
In this years UITP Award competition, there were over 400 proposals from the entire world. The jury made a pre-selection of 31 finalists which were already published before the UITP congress. An important evaluation item is the requirement that the proposal can be transferred to other cities and regions. Get to know to the 2019 UITP Awards winners which were officially announced during the Closing Ceremony of the UITP Summit 2019 in Stockholm.
Category Design Processes and Products
FAIRTIQ LTD. and TRANSPORTS PUBLICS FRIBOURGEOIS SA (Switzerland, Austria, Germany, Liechtenstein): "FAIRTIQ – Public Transport made easy". Together with the public transport operator of Fribourg, FAIRTIQ developed an App which makes the usage of public transport easier in terms of ticketing. Passengers don't have to buy a ticket in advance, indicate their destination or struggle to find the right zone any more. Thanks to the new App, passengers will always be charged the best available price, once they have completed they journey. It doesn't matter how often directions are switched, or even if passengers change between trains, buses, trams and boats. Further information and the download can be found here:
https://fairtiq.com/en-ch/fairtiq-app/how-it-works
Category Diversity and Inclusion
In this category two applicants were awarded:
INIT and Land Transport Authority of Singapore (LTA): "MAVIS (Mobility Assistance for the Visually Impaired and Selected Users)". On 30th January 2019, LTA started a six-month trial of the MAVIS Bus App for commuters with disabilities. This app provides travel assistance for persons with visual, hearing impairment and wheelchair users on selected public bus services. Users select the desired bus service as well as the boarding and alighting bus stops. The information will be sent to the bus captain of the selected bus service. The app will display the waiting time for the arrival of the bus and send reminders to users to alight at the selected bus stop when they are on board the bus. Via a specific driver display unit, the driver is informed about commuters with disabilities waiting to board their bus at selected bus stops so that they can prepare the necessary assistance. Furthermore, the concept includes an induction loop aerial, located towards the rear of the bus (marked as T-Loop area, for internal stop announcements transmitted to hearing aids. Internal and external speakers broadcasts the bus stop announcement and service numbers respectively.
Metro Trains Melbourne (Australia) for the project "Metro Trains Melbourne – Diversity & Inclusion x 10". The operator of the Melbourne rail network, has launched a project to improve diversity and inclusion within the company. The operator is focused on enabling women to thrive in all areas of our business. Gender equality is an important part of the company's broader Diversity and Inclusion approach. Diversity and Inclusion aims to open up the business to employing and engaging with people from all parts of the community. This includes people from different ages, cultural backgrounds, locations and of course, genders. In 2018, Metro Trains Melbourne employed more women than ever before. When Metro Trains Melbourne took over the running network in November 2010, 14% of the workforce was female. That's about 478 women. This has grown to about 23% or 820 more roles filled by women.
Award ceremony with Metro Trains Melbourne I UTM
Category Multimodal Integration
Weego Mobility Lab (Morocco): The "Weego app". Launched last year, Weego is a collaborative transport app that aims to make travel by public transportation easier. It serves three main areas of public transport – buses, tramways and large taxis – and allows users to find all transportation options available to them, keep an eye on arrivals in real-time, and share their position once they are on public transport to assist others. Designed by Saad Jittou, a young 23-year-old Moroccan entrepreneur, Weego is a collaborative application that solves two key problems with public transport, namely waiting time and optimizing the choice of transport. Downloadable on iOS and Android the application was firstly launched in Marrakech in August 2018. The application is "collaborative" as the collection of information is done through users through their GPS. In return, they will receive various gifts, such as phone recharges or coupons. To avoid the lack of data sharing in real time, the creator of Weego decided to integrate in the application "machine learning". Weego is now also used in other cities across Morocco and and Dakar.
Category Operational and Technological Excellence
Seoul Metro (South Korea): "Introducing Observer Pattern-based system for failure prediction of railway facilities (SAMBA)". SAMBA is an observer pattern-based system which predicts a failure of railway facilities. Observer pattern is a software design pattern that observes the patterns of objects and notifies a system automatically of any state or condition changes. Even though similar systems are already existing, SAMBA is the first system applied in the field of railways. Seoul subway is the world's 2nd largest subway in terms of passenger ridership, which is used by 1.7 billion passengers every year. It has 93,000 mechanical facilities of five different kinds, including ventilation equipment, escalators among other equipment. All the facilities have to be managed strictly, but the operator had three major challenges: unexpected accidents caused by old facility, difficulty in precision inspection, and difficulty in data management. Seoul Metro agreed on the need of an innovative system to overcome the situation, and finally undertook the project for developing an observer pattern-based system.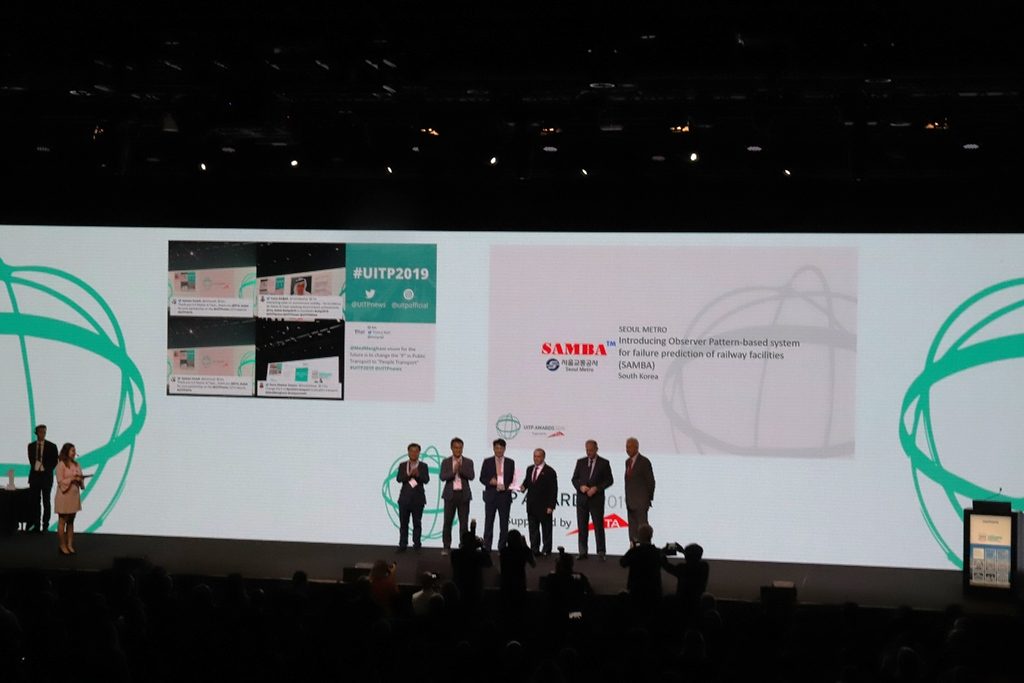 Category Public and Urban Transport Strategy
Via Van Technologies B.V. (Via Transportation Inc. and Mercedes-Bens Vans Mobility GmbH and Berliner Verkehrsbetriebe (BVG) GmbH): "BerlKönig". In September 2018, BVG started a ride-pooling service in Berlin provided with ViaVan, a joint venture between Mercedes Benz vans and the technology company Via. The service is offered within the eastern part of Berlin within the inner commuter rail service such as Mitte, Prenzlauer Berg, Friedrichshain and Kreuzberg. According to BVG, "Berlkönig" is the world's largest on-demand-shuttle provided by a public transport operator.
Category Smart Funding, Financing and Business Models
Metbus (Buses Metropolitana S.A.), Santiago de Chile and Enel X (Enel Group, Chile): "Private Business Model to implement electric mobility in public transport in the city of Santiago". The project's objective was to implement a fully operational electric bus fleet in Santiago's Public Transport System, targeting both economic and environmental sustainability. The project reached 102 electric buses in the capital city of Chile until now. Metbus coordinated the entire supply chain encouraging deeper integration within the operation. Enel X, the power supplier, also supplied buses, charging infrastructure and financing for the operation. Additionally, Metbus worked closely with bus manufacturer BYD to reach a high performance maintenance agreement. Thanks to this project, financing and risk issues were solved and the application of e-buses made possible.
Award ceremony with Metbus and Enel X I UTM

Santiago is already operating a fleet of 203 electric BYD buses I Source: BYD
Category Young Researchers
Chengfeng Xiong, University of Maryland (USA): "incenTrip". incenTrip, part of a 4.5 million USD project funded by the Department of Energy to reduce energy consumption in personal transportation, awards points based on how a user chooses to get around, giving more points for taking public transportation or commuting outside peak travel times, for example. These points can then be redeemed for gift cards to Amazon and the Apple Store. Like other travel apps, incenTrip offers users a handful of travel modes to choose from: car, ridesharing, bus, metro and biking. But the UMD app takes this formula a bit further, showing public transport users how much fuel is consumed by each option and even suggesting that a user travel at another time or mix-and-match modes to ultimately cut time spent in traffic. The options displayed—as well as the points assigned to them—are generated by algorithms that consider real-time road and transit conditions, how traffic will change throughout the trip, and the user's individual behavior. The modeling and data fueling these algorithms come from MTI and the Clark School's Center for Advanced Transportation Technology Laboratory, which manages the largest big data transportation archive in the world. To reach their goal of cutting regional congestion and energy use by 10 percent over the next few years, the developers estimate they'll need just 160,000 active users. They'll leap closer to that goal later this year when the Metropolitan Washington Council of Governments adds incenTrip to the Commuter Connections accounts of tens of thousands of members. The app can be downloaded here:
https://play.google.com/store/apps/details?id=com.futuremobilitylabs.incentrip
https://apps.apple.com/us/app/incentrip/id1370576636?ls=1
Category Outstanding Achievement
Shenzen Bus Group Co. Ldtd (SZBG) (China): "Bus Fleet Electrification". Shenzen Bus Group has electrified large portions of its' bus fleet during the past decade. The difficulty to balance a large scale operation and high quality service. Shenzhen Bus Group (SZBG) took ten years' practice to explore a model of three innovations in "formulation of technologies, collaboration with industries, and formulating operational procedures". Internally, SZBG undertook a complete restructure of operational procedures, incorporating latest state of the art technologies such as internet+ and big data, helping to transform the traditional bus operation to one with a lean management structure in order to meet with the technical challenges that came with operating a pure-electric fleet. The effort facilitated SZBG to become the world's first bus company to achieve full electrification with 16,000 electric buses in operation.
Category Marketing Campaign
The 6 finalists with the best marketing campaigns have also been recognised for their outstanding work:
Berliner Verkehrsbetriebe (BVG): "The limited edition BVG x adidas Originals EQT 93/Berlin : the sneaker that's a yearly ticket". Adidas Originals were presenting EQT Support 93 / Berlin in the beginning of 2018 in cooperation with Berlin's BVG. The pattern of the BVG seat covers serves as a design element of the sneaker. In addition, a BVG annual ticket was incorporated into the tongue of the limited edition sneaker. If the EQT Support 93 / Berlin is worn on foot, it will be valid as a ticket for all BVG vehicles. The ticket was valid from 16 January until 31 December 2018. With only 500 being made, the shoes were available for 180 EUR. The shoes are still available on eBay for 500 to 20,000 (!) EUR.
CARRIS, Lisboa (Portugal): In February 2018, Lisboa's CARRIS launched a multimedia campaign, especially focused on digital channels, which focused on promoting the use of public transport. More public transportation, fewer cars, fewer traffic jams, less stress, better environment, and more quality family time. The "Carts" and "To the Table" videos have a strong associated message. These past values ​​from the older to the younger are a great example, of encouraging the use of public transport. A video of the campaign can be found on YouTube: https://www.youtube.com/watch?v=92MjIF_Yg8A
Transport for greater Manchester (UK): "Bee in the City". A colony of giant Bee sculptures has been installed in the streets of Manchester in 2018. Wild in Art and Manchester City Council are bringing all of Manchester's communities together for Bee in the City, one of the most spectacular public art events the city has ever seen. Over 100 Bees are waiting to be discovered on this free, family-fun trail, taking in the city's landmarks and undiscovered gems. Each Bee has been designed by a different artist and celebrates the unique buzz of Manchester, from its industrial heritage to its vibrant music scene. An inspirational learning project will give schools, colleges and community groups the chance to take part. Most of the bees are also accessible by the cities' Metrolink light rail system.
Västtrafik AB (Sweden): "We use less space if we travel together". Västtrafik's campaign was launched in 2018 and showed via a folding leaflet how much space can be gained if everybody took public transport rather than the private car. An example can be found here: https://en.agenciatelling.com/graphic-ad-from-vasttrafik/
MTR Corporation (Hong Kong SAR, China): "Rail Gen 2.0 New Customer Experience – Digital Transformation". MTR is upgrading the signalling systems of the East Rail, Tsuen Wan, Island and Kwun Tong lines. MTR communicated to all its passengers about possible disruptions to the next day's train service. With the new signalling system and upgrades to other facilities, train services will be more frequent. With the enhanced "Traffic News" function, new "In-station Finder" as well as "Fast Exit" functions, MTR Mobile is providing comprehensive information for better planning of your journey.
Moscow Metro (Russian Federation): "Privet, Moskva! City storytelling from Moscow Transport".
21.06.2019
---