Metro Madrid experienced an almost unparalleled expansion of its network in the years between 1994 and 2011 – the total route length increased from 112 km to an impressive 280 km. The economic crisis put on hold any further extension plans with only one exception, a short prolongation of line 9 from Mirasierra to Paco de Lucía (1 stop, in 2015). A complete map of Madrid's metro system can be found here:
http://urbanrail.net/eu/es/mad/madrid.htm
Intentions to expand the metro network even further regained momentum in 2018. Since then the key-decision makers were working on the detailled planning for the envisaged new sections of three different metro lines, all of them to be opened by 2024:
Line 3 Villaverde Alto – El Casar (connection to line 12 and Cercanías suburban train), 2,5 km, 2 additional stops
Line 5 Alameda de Osuna – Barajas Airport (connection to line 8 and Cercanías), 1,5 km, 1 additional stop
Line 11 Plaza Elíptica – Conde de Casal (connection to line 6), 6 km, 5 additional stops
The construction work on route 11 will already begin in 2020, with routes 3 and 5 to follow next year. All three new sections are planned to be opened in 2023 and 2024.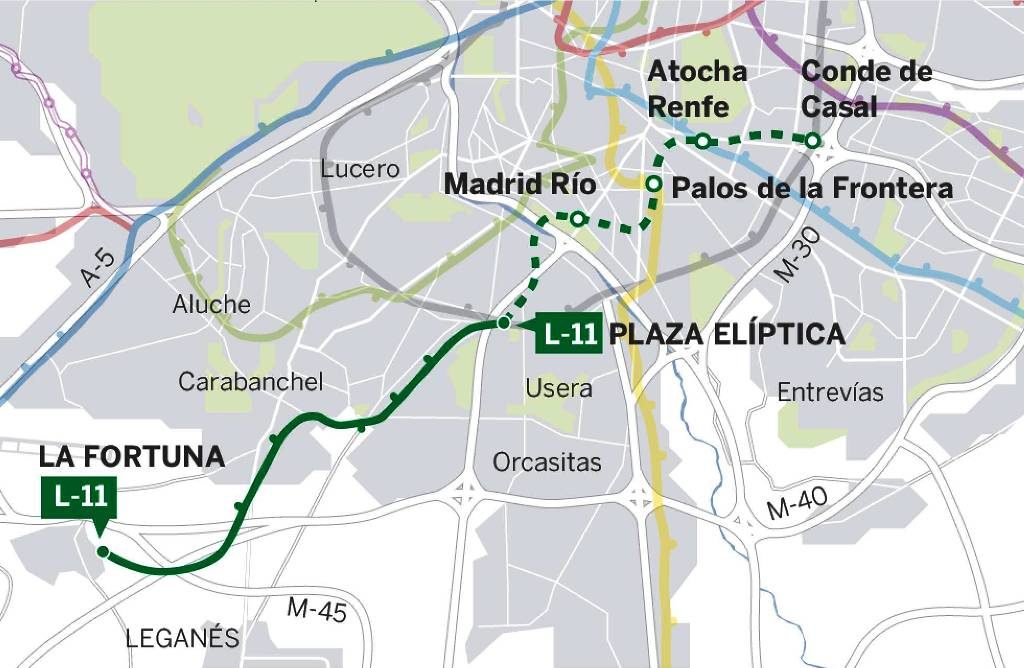 On 7 July 2020, Madrid's mayor officially announced a fourth project: At the Feria de Madrid stop of the existing metro line 8 Nuevos Ministerios – Barajas Airport a new 4 km route with 3 or 4 new stops will branch off to Valdebebas, in order to connect the city's newest district to the metro network. Valdebebas is under development since 2013 and it is currently only insufficiently served by the suburban train service "Cercanías" line C1 and some bus routes. The exact alignment of the new branch needs to be defined yet. As a first step, a detailled project design study is currently under way. A BRT electric bus route is also part of the infrastructure development plan for the whole area.
All new metro extensions will be entirely built underground. The investment volume for all projects together is expected to amount to approximately 800 million EUR.
05.08.2020
---