In mid-September, MAN celebrated something remarkable at its bus plant in Starachowice, Poland: the thousandth MAN electric bus rolled off the production line. The vehicle of the well-known "Lion's City 12 E" model will be delivered to "Auto Periferia S.A." in the Greater Madrid area. Auto Periferia is a subsidiary of "Grupo Ruiz", which was the first Spanish customer to order electric buses from MAN. The group is now using 20 of these vehicles, and foresees to have 60 buses by the end of the year.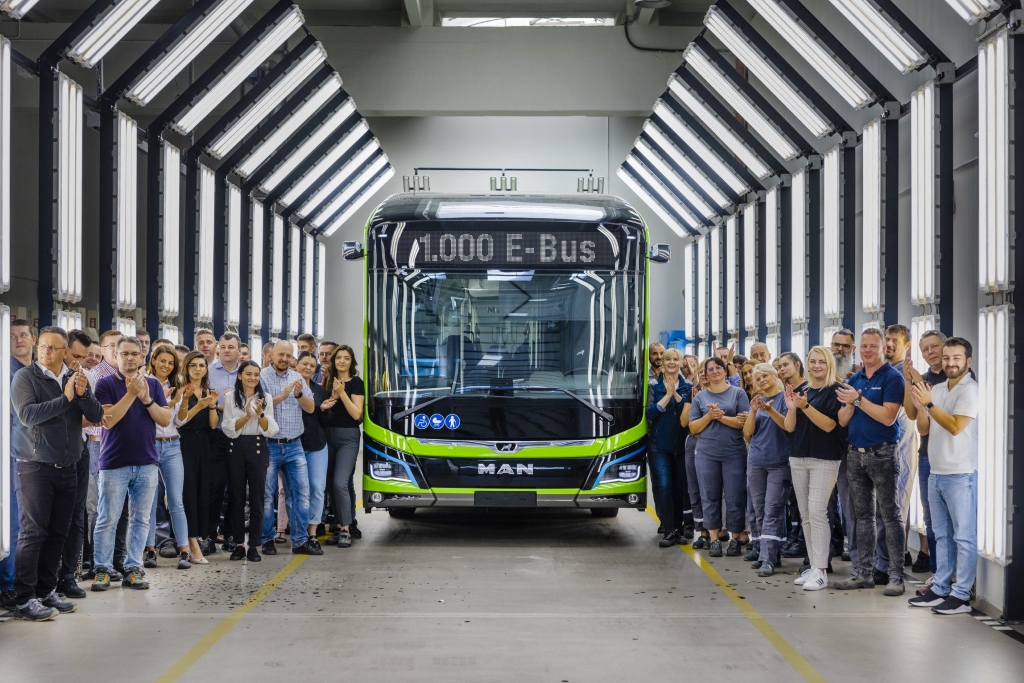 European registration statistics for electric buses
In the European registration statistics for electric buses, MAN is currently in second place, after market leader Solaris. The Chinese manufacturer BYD follows in third place, not least due to a close cooperation with the Scottish bus builder Alexander Dennis. Rank 4 is also held by a Chinese, namely Yutong – a company that – remarkably enough – is still virtually unknown in Germany of all places. 5th place goes to Volvo, 6th place to Wrightbus from Northern Ireland. The fact that Wright is still unknown in Germany should not be misleading: Wright will soon deliver a considerable number of hydrogen buses to Regionalverkehr Köln (RVK).
In 7th place we find Iveco, the commercial vehicle subsidiary of the Fiat group, which markets electric buses from its group sister Heuliez here in Germany under the name "Iveco Eway". Such buses can be seen, for example, in the city traffic of Ingelheim (between Mainz and Bingen), where they are lively on the road.
In 8th place comes the Dutch electric bus specialist Ebusco. Considering that this company has only been around since 2012, this is truly not a bad "performance". And Ebusco is still on the way up: plant 1 in Deurne was followed by plant 2 in Venray in the spring, and already Ebusco is signing contracts for even more new plants.
In 9th place we (finally) land with one of the top dogs in European bus construction: Daimler Buses. Did they start a bit late with electric buses, did they rely too long on the (undisputed) good quality of the diesel buses of the company (including Setra)? However, the times, they keep changing …
Overall, the European market for electric buses grew by an impressive 45% in the first half of 2023. (Source for all these figures: Chatrou CEM Solutions)
The electric bus is no longer something special but it is becoming more and more the norm.
October 2020: MAN's first electric bus
In October 2020, the construction of MAN's electric buses started at the Starachowice plant. Since then, the number of registrations has grown steadily, so that now the thousandth electric bus of the brand with the lion has just been delivered. "The Statachowice plant," says Barbaros Oktay, head of the bus division at MAN Truck & Bus, "has since developed into a centre of excellence for electric city buses. For which MAN has invested intensively in electromobility, by training employees at the plant, by investing in production facilities."

In its home market Germany, MAN electric buses are already in use in Nuremberg, Leverkusen, Munich, Hamburg, Tübingen, Mainz, at Cologne-Bonn Airport and on the island of Sylt, among others. But other countries are also well represented:
Orders from Spain
Currently, the order book from Spain for MAN electric buses, in addition to the e-buses for Grupo Ruiz, stands at 176 wagons, which will go to cities such as Alicante, Bilbao, Melilla, San Sebastian and Valencia.
The market for MAN electric buses in Scandinavia
The Scandinavian countries are considered pioneers when it comes to electric mobility. By the end of the year, 370 electric buses from MAN will be in operation here. Vikingbus Danmark A/S expects 45 MAN Lion's City 12 E by then. For Copenhagen's city line 7 A, Anchersen A/S expects twenty-five "electric lions" from MAN as early as 2021. The manufacturer points out that it is also doing very well in Norway and Sweden. For example, 76 MAN electric buses will soon be in service with the Norwegian transport company Unibuss.
20.09.2023
---