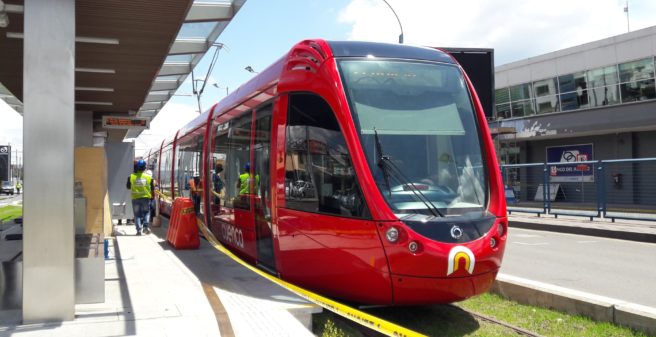 At 2,550 metres above sea level in Europe you may just find some mountain railways as public transport, but not so in the Americas: Cuenca in Ecuador now opened one of the highest tramway systems in the world, and the first in the country for decades: The new "Tranvía Cuenca" started passenger service on 25 May 2020 – on a trial basis and under "COVID-19" restrictions. Service is offered daily between 6.00h and 20.00h and free of charge, in order to familiarize the local population with the new mode of public transport in the city.
Cuenca is Ecuador's third biggest city with a population of approximately 420,000 inhabitants (plus another 230,000 in the metropolitan area). Its historic center is part of UNESCO's world heritage and attracts a lot of visitors from all parts of the world throughout the year.
The new tramway
Construction of the new low-floor access tramway system started already several years ago but the inauguration had to be postponed several times, from scheduled opening dates in 2016 and 2018 to 2020. However, the infrastructure is already in place for more than two years and also most of the 14 tramcars arrived on time in Cuenca during 2015/16. Test runs have already been under way for quite some time, too. Finally, a political consensus was agreed upon to ultimately open the new system now despite various pandemic restrictions, like the limitation of the number of passengers, distancing rules in the vehicles and the obligation to wear face masks. Revenue service at full scale is expected within a few weeks.
The standard-gauge, double-track tramline is 10.2 km long and serves 20 stops in each direction. 2.1. km of the line is equipped with Alstom's APS underground power-supply system, already in use at various other cities around the world. In Cuenca, it is mainly used to avoid the "visual impact of a catenary" in the historic city center – at a higher cost of construction and maintenance. The tramway uses mainly its own right of way – outside the inner-city center with green lawn track, also at the stations which are mostly equipped with a central platform. In the historic center the tram runs in parallel to narrow streets and the track can also be used by other traffic on occasions.
Alstom supplied 14 bi-directional, 5-section low floor tramcars of its "standard" Citadis 302 model, 32.6m long and 2.4m wide. All of them are equipped for power supply through catenary as well as APS underground.
02.06.2020
---