For the expansion of regional public transport service in the wider area around South-Western German city of Freiburg, the existing railway network was to be significantly expanded under the brand name "Breisgau S-Bahn 2020". This included full size electrification of all lines 15 kV / 16.7 Hz by 2018. Continuous barrier-free access at all access points was also part of the construction scope. The operator structure had been redefined, too, under new conditions – the regional state-owned Südwestdeutsche Landesverkehrs-AG (SWEG) and Deutsche Bahn share the operation of the pre-defined three sub-networks 4, 9 a and 9 b. The planned commissioning of these sub-networks was delayed, in some cases considerably; it partially began in December 2019 and required repeated adjustments and changes. In addition to delays in electrification, this was mainly caused by all types of difficulties in the delivery and commissioning process of part of the new fleet. But now most of this has come to an end: Since 4 October 2021, operations have been running largely as planned, after the delivery of the new-build trains to SWEG was largely completed – almost three years later than planned. Since then, the new Bombardier Talent 3 EMUs have also been operating on the Elztalbahn, the last units being delivered already after Bombardier was taken over by Alstom. Only the Waldkirch-Elzach section of the Elztalbahn will have to wait until 14 November 2021 before electric trains will run here as well. In addition, a limited timetable will continue to apply on the so-called east-west axis for the time being.
12 Bombardier Talent 3 electric multiple units (EMU) had been ordered by SWEG, but the first two three-car units were not delivered before spring 2020 and did not start revenue service on the Münstertalbahn until 14 June 2020. These vehicles initially replaced the two Bombardier Talent 2 EMUs that had been operating on this line since its electrification in 2013. On the Kaiserstuhlbahn West, the remaining 3 three-section "Talent 3" vehicles only started service in June 2021, and finally, since October 2021, the 7 four-section Talent 3 on the Elztalbahn as well.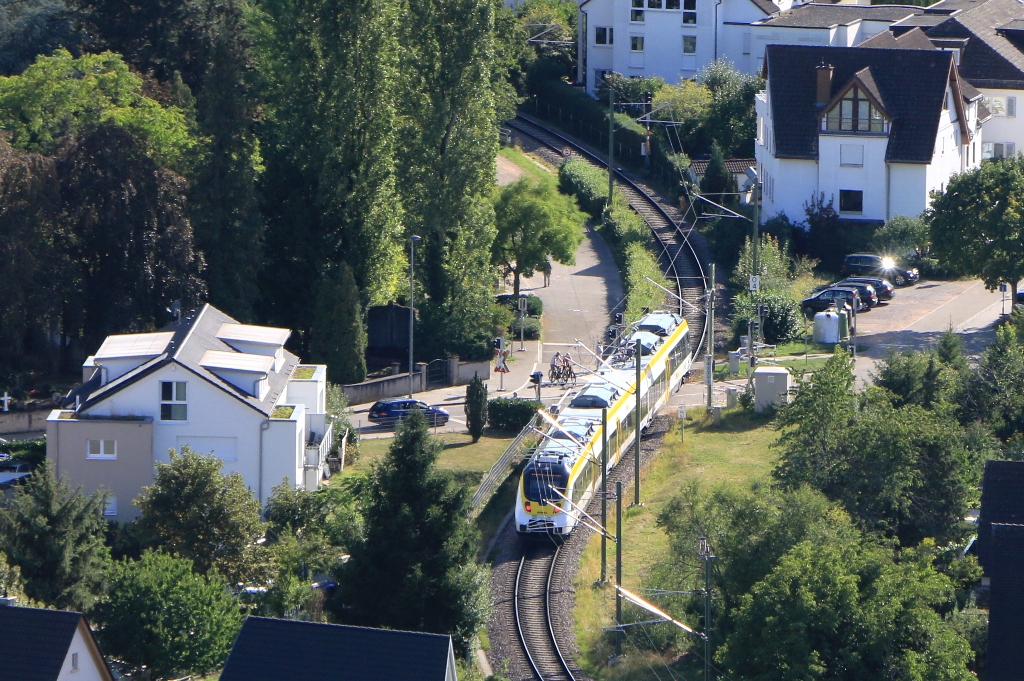 SWEG was awarded the operating contract of sub-network 9b of the redesigned "Breisgau S-Bahn" in 2017. This includes the three separate lines Breisach-Endingen-Riegel-Malterdingen (Kaiserstuhlbahn West), Freiburg-Denzlingen-Elzach (Elztalbahn) and Bad Krozingen-Staufen-Münstertal (Münstertalbahn). Final inauguration had been planned for December 2019, but the delay in the delivery and commissioning of the new trains and also in part of the electrification work required extensive diesel train replacements since then. However, now this is over.
On sub-network 9 a of the Breisgau S-Bahn, DB operates 11 three-section and 15 four-section Alstom Coradia Continental EMU multiple-unit trains as class 1440, while on sub-network 4, which also includes purely regional services, DB uses 15 Siemens Desiro HC (class 1462) and 24 Siemens Mireo trains (class 463).
An overview map of the regional railway lines in south-west Germany can be found here:
https://www.paperturn-view.com/de/bwegt/liniennetzplan-regionalverkehr-bw-13dez2020-nicht-barrierefrei?pid=MTM131569&v=2
28.10.2021
---