The Croatian capital Zagreb can look forward to "new" low-floor trams – although they are not that new actually. We are talking about the 11 Adtranz GT6M low-floor trams of Stadtwerke Augsburg, which will be replaced by the new Stadler Tramlink trams. The three-car GT6Ms, built in 1996 with 100% low floor, are by no means "old iron". The vehicles are in good condition and were even modernised in 2014 by IFTEC in Leipzig.
As early as 2022, the first rumours emerged that the municipal transport operator of the Polish city of Łódź was interested in the trams, which had already taken over a total of 35 NF6D Duewag low-floor trams from Bochum Gelsenkirchener Straßenbahnen (BoGeStra) between 2018 and 2021. However, MPK Łódź's tender for the takeover of the 11 used GT6Ms had to be cancelled for formal reasons. Apparently, the transport companies of Zagreb have now beaten the Poles to the punch: In spring 2023, the city of Zagreb had initiated an international public tender for the purchase of 11 second-hand trams worth €2.7 million, to which Stadtwerke Augsburg responded by offering the 11 GT6Ms. According to Croatian media reports, the vehicles are to be transferred to Zagreb between October 2023 and December 2024. The purchase price per vehicle is a circa 245,000 euros.
While passengers in Zagreb should be happy about more vehicles with low-floor access, the MPK Łódź transport authority is now facing a dilemma: only just under a quarter of the total 500 vehicles of their fleet have low-floor access. But there is improvement in sight: Modertrans is currently delivering a total of 30 Moderus Gamma LF 06 AC low-floor trams to Łódź and it can be assumed that the transport companies will look very closely at low-floor trams that become available in Germany, for example the GT6M in Jena.
The ZET Zagreb tram fleet
The fleet of ZET Zagreb currently consists of 277 trams, 142 of which are low-floor vehicles (approx. 51%). The oldest units still in service are the four-axle TMK 201 with the TP701 trailer cars, which were built by Đuro Đaković between 1973 and 1974. Furthermore, ZET has 85 ČKD-Tatra type T4YU with 85 B4YU trailer cars as well as 51 articulated trams type KT4YU in operation.
In 1994 Končar built a prototype of the TMK 2100 articulated tram, of which a total of 15 vehicles were manufactured between 1997 and 2003.
In addition, between 1994 and 1998, ZET procured 35 second-hand Duewag GT6 trams (5 of which are GT6 "Type Mannheim") from Mannheim, and started to phase out the older TMK 101 cars. All the Düwag trams have since been replaced by the TMK 2200 low-floor trams and scrapped.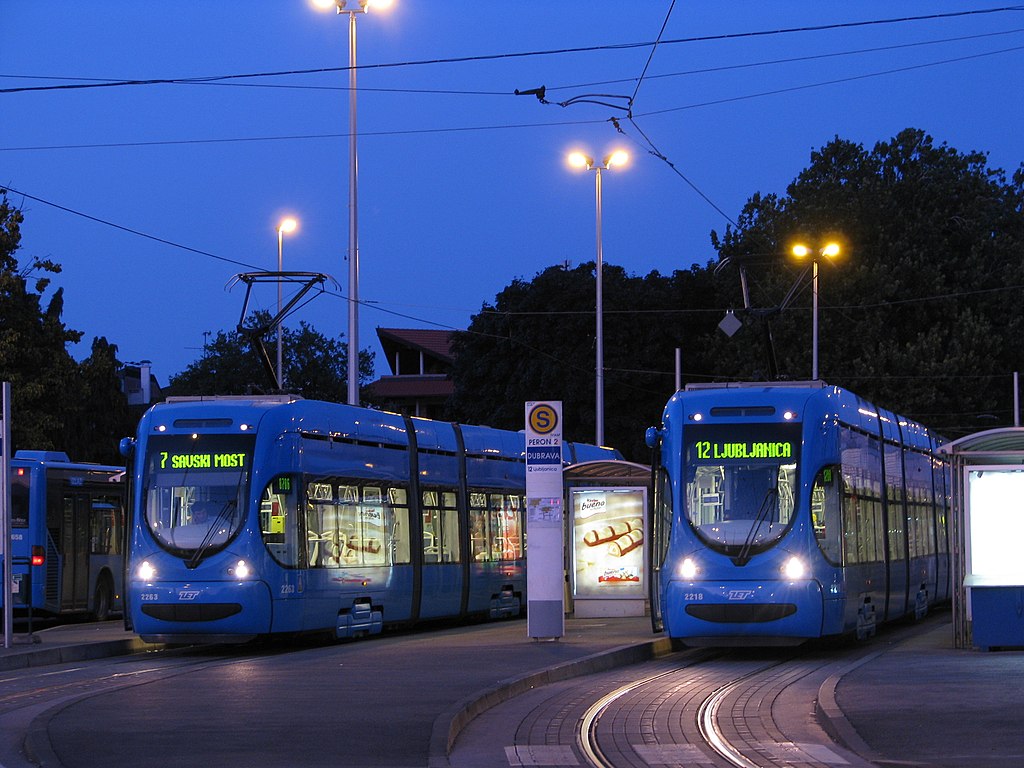 The newest vehicles in Zagreb are the TMK 2200 series, of which a total of 140 units were procured between 2005 and 2010. ZET ordered 70 five-car 100% low-floor trams in 2003 from the Crotram consortium, led by Končar. The first series of TMK 2200 trams were delivered between 2005 and 2007. Another contract for 70 more TMK 2200 vehicles was signed in 2007. In addition, two three-car shorter TMK 2200-K (or TMK 2300) were also delivered. In 2022, another 20 TMK 2200s were ordered, and another 40 are to follow, so that a total of 260 TMK 2200s will be in service. The high-floor TMK 2100s will then only be used in night-time operation. Zagreb's metre-gauge tram network consists of 15 day and 4 night lines on a network of a good 116 km in length.
The GT6M fleet in Augsburg
Augsburg was the first metre-gauge company to receive the new GT6M development from MAN/ Siemens at the time. The GT6M prototype with the number 601 was tested in 1993 and used on line 4. After a serious accident of the prototype in 1995, it was taken out of service and returned to Siemens in Krefeld. The Stadtwerke increased the order for the series vehicles to eleven, manufactured by Adtranz/ Siemens. The vehicles were modernised in 2013/ 14 by IFTEC in Leipzig, receiving new equipment and passenger information systems. They are scheduled to be retired in 2023 as they are not suitable for use in the new tunnel below the main station and will be replaced by the longer Stadler Citylink. We reported here:
https://www.urban-transport-magazine.com/en/stadler-tramlink-the-first-of-the-new-trams-reached-augsburg-last-night/

A video on Augsburg's GT6M trams is available here:
08.08.2023
---