Research
More than in other countries, the United Kingdom is requesting a high degree of competitiveness in terms of investment and operational costs of public transport. Ideas and prototypes for lightweight, low emission and cheap rolling stock to operate on existing low-density railway lines, and for new tram systems to operate in smaller cities have been lingering for decades. A small regional train shuttle has been operating since 2009 with three short Class 139 'Parry People Mover' railcars on the 1.3 km Stourbridge – Dudley branch line in the suburbs of Birmingham. A very light tram, Trampower's 'City Class' Tram, a 29 m long prototype that weighed just 750 kg/m has been tested between 2000 and 2007 on the tram networks of Blackpool and Wirral.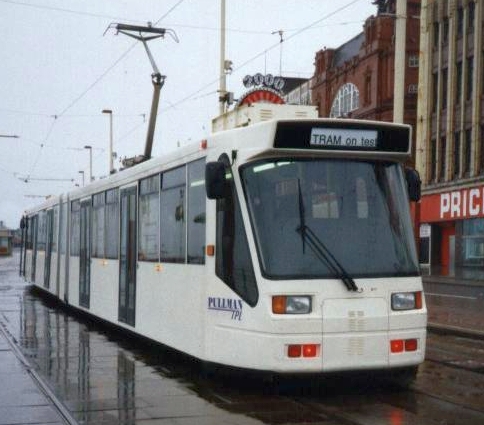 A new boost is now given to both lightweight train and tram projects by the Very Light Rail National Innovation Centre (VLRNIC), a prototype assembly workshop for rolling stock and infrastructure elements, including a test track, research laboratories and training facilities. The construction of the VLRNIC is underway and should be completed by December 2021. But the first test track will already be available in January 2021 to allow testing of the "Shuttle" tram from February, and the "Revolution" railcar prototype vehicles, both of which are currently under construction. With the support of Dudley borough council the required £27.75m of initial funding have been secured so far, and a further £7.35m is needed for the centre's operations, a temporary workshop and a test track extension to become a loop.
Railcars
The projected 18 m long "Revolution" railcar should weigh less than 1 tonne per metre and its price target stands at 0.65 m£ (0.71 m€) – about a third of the current market price level for such vehicles. Grant funding to support half of the costs of the R&D project of £5.5m, including the prototype, is provided by the Department for Transportation (DfT) via the Rail Safety and Standards Board Ltd (RSSB). A consortium that funds the other half of the project cost has been formed. It is led by Transport Design International Ltd (TDI) and includes the University of Warwick (WMG), Cummins, Eversholt Rail, RDM, Transcal and Prose.
Tram systems
The 11 m long, very light "Shuttle" tram vehicle should be equally light and cheap. But the philosophy behind the "Shuttle" goes much further. The light vehicle will allow for a shallower track form that can be laid quickly and with virtually no diversion of underground utilities. The system should thus cost around 10 m£ (11 m€) per kilometre compared to the usual level of 25 to 50 m€ in the UK and on the continent. The track development commenced at the beginning of May 2020 with Ingerop as an innovation partner to work alongside WMG. First prototype elements for the novel track will become available for testing in mid-2021. If successful, smaller cities would so be able to afford a tram system, such as Coventry who have secured the funding from the Coventry and Warwickshire Local Enterprise Partnership (CWLEP) and West Midlands Combined Authority (WMCA) to deliver the "Shuttle" research. Coventry City Council has concluded that a modal shift away from cars is the only way to reduce congestion and emissions – this has been clearly demonstrated where tram systems have been implemented while bus systems do not benefit from such an effect [1]. But they found existing light rail solutions too expensive and this led them to request funding from the CWLEP and WMCA for the R&D project to develop a lower cost solution for which the University of Warwick (WMG) was contracted. Coventry wants to build a first 7 km line to run from Coventry railway station through the city centre and then onto the University Hospital Coventry and Warwickshire (UHCW) in the North East of the city. With £14.6m, most of the R&D funding, including the prototype "Shuttle" which is under construction, is secured. To get the Coventry tram project underway, WMCA is expected to invest a further £44.2m to fully develop the autonomous driving system and to design the first route and depot as well as to partially finance the first line.
Feasibility
The Swiss and French rolling stock industry had built very lightweight rolling stock in the 1930's and 1950's, such as the 12.7 m long partial low-floor tram Ce 2/4 for Basel that weighed 11.8 t or 930 kg/m, or various versions of 'Micheline' rubber-tyred railcars that weighed less than 900 kg/m. Modern buses are equally light. The UK 'City Class' tram prototype was even lighter. But conventional trams nowadays weigh around 1500 kg/m and regional trains even more. A scientific approach, even if air-conditioning, crashworthiness and other modern features are included, should therefore allow to build such light vehicles.
Lightweight and easy to install tram tracks that do not need important diversions of utilities and that can be built without major traffic disruptions have already been proposed in the past in the UK. One such type of track, the 'Lewis LR55' system has even been tested on the Sheffield Supertram network.
These examples demonstrate that it is not unrealistic to assume that if there is a will and sufficient funding and engineering brain dedicated to both these undertakings, it should be possible to reach the weight targets. It might be more difficult to match the low-price objectives. Experience has shown that lightweight designs tend to be more expensive than heavy constructions.
Once the rolling stock and track prototypes are ready, we will report again here in Urban Transport Magazine.
References:
[1] Hass-Klau, Carmen et al.: Bus or Light Rail: Making the Right Choice, Brighton, 2003
24.08.2020
---