High demand despite difficult times
A continuous high demand for trams, light rail vehicles and metros is reported by the new 21st overview now available for Germany's public transport operators. However, the Corona crisis led to delays in many deliveries of vehicles currently in production, orders were placed later than planned and tenders [or financial arrangements] also faltered.
This results in a longer time period between car deliveries and planned tenders. The authors have therefore decided to split the list in order to improve clarity: Part I lists the vehicles that are in order or in production, and Part II then lists the tenders that have been issued or are planned.

Market shares
Let's take a look at the market shares of vehicles ordered and in production: Thanks to a solid order backlog and the large order for 109 high-floor light rail vehicles from Düsseldorf and Rheinbahn, Siemens is the market leader for the period 2020 – 2021 with a market share of 33 % (291 vehicles), closely followed by Bombardier (part of Alstom since 29 January) with 26.7 % (271 vehicles). On 29 January 2021, the official takeover of Bombardier Transportation by Alstom took place. The initial effect on the tram and light rail business is that Alstom, with the acquired Bombardier activities, has retroactively become the market leader with 37.5% and 380 vehicles. For the sake of clarity, both manufacturers are still considered separately in this overview. It remains to be seen what effects the takeover will have on Alstom's future product strategy.
Stadler and Škoda were able to hold their own in the reporting period with a market share of 14% and 13% respectively. The order for the 24 Škoda ForCity Plus trams for Brandenburg, Cottbus and Frankfurt (Oder), which had been very protracted due to court proceedings, deserves special mention. Heiterblick is currently producing new trams for Bielefeld and Dortmund (high-floor) as well as for Würzburg (low-floor).
Extended delivery times
If one compares the overviews of the last few years with each other, it can be seen that the periods between the awarding of a contract and its delivery are getting longer and longer, as is the interval between the publication of an invitation to tender and the awarding of the contract. It can also be years between the first announcement of a tender and its placement in the Official Journal of the EU. These vehicles then take a correspondingly long time to appear in the market overview.
A record in this respect is the Cologne order for new high-floor light rail vehicles from the manufacturer Bombardier, where a period of five and a half years lies between the award of the contract in May 2015 and the delivery of the first two advance vehicles in December 2020. The start of series delivery has been delayed by a further year because manufacturing defects that occurred in the units ordered at the same time and previously delivered to Düsseldorf also impeded the production process of the Cologne carriages. The Cologne public transport authority also decided to have an in-depth test phase with initially only two cars before calling off the rest of the series.
Test cars becoming more common
The advance delivery of vehicles for testing is increasingly becoming common practive in the awarding of contracts. This is to prevent the need for retrofits on numerous series-production vehicles. Unfortunately, there have been numerous unpleasant examples of this in the past. This has made many transport companies more cautious.
Increasingly, the new instrument of market investigation created in the tender guidelines is being used to contact manufacturers at a very early stage in order to "pre-screen" requests for feasibility and financing. This prevents invitations to tender from coming to nothing because no bids are submitted due to unrealistic ideas in technical and/or financial terms. Nevertheless, it could not be prevented that during the reporting period no contract was awarded in response to a tender by the Ruhrbahn for standard-gauge high-floor wagons of the Essen-Mülheim network. The reasons for this are as yet unclear and unconfirmed, but might be due to an objection which has to be clarified in court.
Contract awards in two categories and two special cases
The contract awards of the period from spring 2020 to spring 2021 are again basically divided into two categories: Conversion of existing options and new awards based on initial tenders. In addition, the procurement guidelines also provide for contract awards without these two specifications if certain conditions are met. For example, the specification of ordered vehicles may be changed and their number subsequently increased to a modest extent if a new tender for this would involve a high cost and time expenditure.
Both cases occurred in the reporting period: Frankfurt am Main ordered an additional middle section for the extension of 22 of its 38 ordered low-floor trams and Cologne announced the necessity to increase its ordered HF6 high-floor railcars by seven units at short notice, but then only ordered six units in fact.
Orders for Augsburg (4 low-floor trams), Berlin (20 low-floor trans, Frankfurt am Main (7 low-floor trams), Stuttgart (20 high-floor LRV's) and Ulm (6 low-floor trams) were converted from options.
In terms of metro cars, Berlin placed a large order that could comprise a maximum of 1500 vehicles. Stadler Germany is supplying 236 trains for the large-profile network and 140 for the small-profile network, with an initial option for 270 units, the area of use of which will be determined when they are redeemed. In Munich, a further 22 six-car metro trains were ordered from an option.
In the reporting period, both smaller and larger orders were firmly placed and mostly additional options were granted. For example, Rheinbahn in Düsseldorf placed a firm order with Siemens Verkehrstechnik Mobility for 91 high-floor cars and awarded 42 options. Duisburg participated in the joint order with 18 units (including two preliminary test cars) and awarded 6 options.
Alstom Deutschland received an order from the Cologne public transport authority for light rail vehicles for the low-floor sub-network with 62 double-section long trains (= 124 single cars) and two short trains. Two of the long trains and the two short trains will be tested in advance. In addition, 11 long trains (= 22 single wagons) and 25 short trains are optional. Actually, these vehicles are middle-floor cars due to their floor height for 35cm high platforms!
Another joint order was placed by the three metre-gauge tramway operators Brandenburg, Cottbus and Frankfurt an der Oder in February 2021, after a long lead time and legal clarification due to unresolved financing details: Skoda-Transportation from the Czech Republic will deliver 24 low-floor cars as a fixed order and will receive a further 21 options.
Jena will receive 24 low-floor cars in two lengths from Stadler R [r] ail, with a further 19 units, also in both lengths, as options. The tram design is derived from Stadler's Tramlink standard catalogue.
Number of options has risen sharply
This means that 297 tram and light rail vehicles (of which 135 HF [-] and 162 LF) were newly ordered in the reporting period and an additional 272 cars (of which 48 HF and 224 LF) were optioned. In addition, there are 398 metro trains as firm orders and 270 options.
By comparison, in the same period of the previous years 2019/2020, there were 267 tram vehicles of low-floor design and 84 options of this design. No high-floor vehicles were ordered. In addition, 63 metro trains were ordered for Hamburg, Munich and Nuremberg.
Tenders still at a high level
The number of tenders planned or published in this reporting period is considerable. Of the six planned tenders for Bonn, Gera, Hanover, Potsdam, Rostock and Stuttgart, five already existed in the 2019/2020 reporting period and only the one for Stuttgart is new.
There are actual new tenders for six facilities (Chemnitz, Görlitz, Halle a.d. Saale, Leipzig, Mageburg and Zwickau), with the three Saxon facilities in Görlitz, Leipzig and Zwickau being a joint tender.
277 trams and light rail vehicles (115 high-floor and 162 low-floor cars) have been put out to tender by 1 March 2021, plus 435 planned options (200 high-floor and 235 low-floor cars).
The Dockland railcars (pictured) and B-cars of the Ruhrbahn will have to wait a while longer for replacement by new vehicles – the tender has been inconclusive so far | © UTM
Joint tenders launched for Tram Train networks
The VDV TramTrain vehicles are a special chapter, as they are not only tendered for companies in Germany, but also in Austria. This vehicle platform had been created by the operating companies of these vehicles under the leadership of Verkehrsbetriebe Karlsruhe and Albtal-Verkehrsgesellschaft with the support of the Association of German Transport Companies (VDV) in 2019. In a kind of modular system, the variants required for the individual areas of use can be coLFigured. A total of seven combinations are planned. The project includes not only the development and procurement of the vehicles, but also long-term maintenance contracts with the manufacturers. The joint approach should enable considerable cost savings compared to individual operational solutions.
Of the German companies originally involved, Chemnitz, Karlsruhe/AVG and Saarbrücken, the Saxon city has meanwhile dropped out and is continuing the procurement of multi-system vehicles under its own management on the basis of the existing type. AVG is also involved in the vehicles for the Neckar-Alb regional light rail system (RSBNA). The Erms-Neckar-Bahn (ENAG) also contains vehicles of the VDV type and is again involved in the planned RSBNA lines in the Reutlingen and Tübingen areas. For AVG and RSNBA/ENAG, the vehicles are procured and financed via SchieneLFahrzeuggesellschaft Baden-Württemberg (SFBW).
For Austria, Schiene Oberösterreich in Linz an der Donau was involved from the beginning. In the meantime, the province of Salzburg has joined for the lines of the Salzburger Lokalbahn, so that now six partners, two of them in Austria, are again involved in the project.
The vehicles that were put out to tender and those with additional options are shown in a separate table. For the four German companies, 206 vehicles in five variants have currently been tendered and 208 additionally optioned. In addition, 40 units in two variants have been put out to tender for Austria, plus 55 options.
Which vehicles will be delivered in 2021?
Delivery of the high-floor light rail vehicles ordered for Bielefeld and the standard-gauge line of BOGESTRA has already begun in 2020. In Bremen, delivery of the Avenio low-floor cars will continue. Dortmund is to receive its first new light rail vehicles this year. Dresden and Leipzig are also expected to start delivery of the ordered additional wagons of existing types, and for Erfurt the first vehicles of the new Tramlink type are to be delivered.
For Düsseldorf, numerous HF6 high-floor axles are currently still at the manufacturer Bombardier in Bautzen, as the company will not accept any cars until an expert opinion on the manufacturing defects that have occurred has been submitted. Originally, 43 units were ordered for delivery by 2020; an option for 15 units has been exercised for some time. Cologne is to receive further vehicles of the type from the end of the year, if the testing of the two advance vehicles is successful. There are still 24 units on order.
The first two Type T advance carriages, which were expected in Frankfurt am Main last year, are still pending, as is the start of delivery of additional middle sections for the existing U5-50 high-floor light rail vehicles, also planned for 2020. Hamburg will receive further DT5 units for its underground. In Karlsruhe, the delivery of the low-floor 2-system cars will continue.
It remains to be seen whether the delivery of the first back-ordered 73 four-units for Munich will actually begin at the end of 2021. In Nuremberg, some trains are still missing from the 21 four-car G1 units scheduled for delivery in 2018-2019 for the metro. The delivery of the first units of the new type of Rhein-Neckar-Tram is delayed until December 2021. Stuttgart expects more DT 8 for the light rail and the new vehicles for the metre-gauge rack railway also this year.
Obtaining information is becoming increasingly difficult
The authors hope that the current list has provided some clarity in the increasingly less transparent business with new rail vehicles for German transport companies. Additions and corrections are welcome.
Unfortunately, obtaining the necessary information and checking it is becoming more difficult from year to year. The cancellation of the leading trade fair Innotrans in Berlin is having a negative effect here, where many details had to be clarified in discussions with exhibitors and colleagues. It was also no longer necessary for the manufacturers to prepare supplementary information material for their exhibited vehicles. In addition, the manufacturers frequently do not publish if an option is executed and converted into a firm order.
The information to be found on their internet platforms about new vehicles is getting more and more scarce, partly upon request of the clients, and hardly goes beyond nice-looking animations of the planned vehicles. The days when the order was accompanied by a data sheet, which ideally also included dimensioned, full-scale drawings of exterior views and floor plans, are unfortunately a thing of the past. It is not necessarily a lack of will that prevents this, but it is also partly due to fundamentally changed planning processes. Whereas plans for a vehicle used to be available to a large extent when the order was placed, today the detailed planning phase only begins afterwards, so that only the animations are actually available at first. This inevitably results in a lengthening of the time between order placement and delivery, but saves effort and thus costs!
The 2020 market overview is available here:
List I: Ordered vehicles and vehicles in production
List II: Tendered vehicles
List II: Tram Train tenders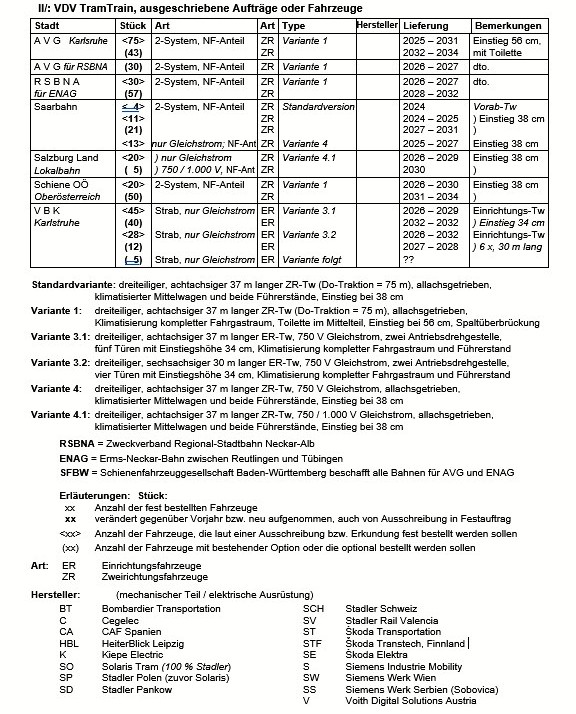 26.04.2021
---