In order to quickly improve the situation of the public transport network in the Mexican capital region, the existing trolleybus system, which had been neglected for a long time, was taken into consideration a few years ago. A comprehensive modernisation programme of the fleet was launched as well as the (re)opening of new lines.
The most remarkable project, however, is probably the commissioning of a completely new trolleybus line, which runs largely as an "elevated trolleybus" on its own elevated track. Construction cost of this form of Bus Rapid Transit (BRT) is considerably lower than a conventional metro line. It is for a lower passenger capacity, but offers all the advantages of a crossing-free guided rapid transit system. 76,000 passengers can be expected on the line on weekdays.
From Constitución 1917 station to UACM Casa Libertad, along the so-called Eje 8 in the district of Iztapalapa, the first phase of the system runs for 7.4 km with eight intermediate stations. The line directly interconnects with metro line 8.
8 articulated trolleybuses and 17 rigid (12-metre) trolleys will provide the service during the day – in left-hand traffic with stops at central platforms. Only the new trolleybuses from Chinese production, which have been delivered in several tranches since 2019 and have replaced many of the older trolleybuses built between 1984 (!) and 1999 in the last two years, are in use. 143 two-axle and 50 articulated trolleybuses from the manufacturer Yutong have been put into service so far, and another 100 solo trolleybuses have been ordered – for delivery before the end of 2022. Among them, for the first time, will be two-axle trolleybuses from the Chinese manufacturer Zhongtong. By 2024, the President of the Capital Region, Claudia Sheinbaum, has announced the procurement of a total of 500 trolleybuses in order to put more trolleybus lines into operation and to replace all old vehicles. We reported on the development of Mexico's trolleybus system here:
https://www.urban-transport-magazine.com/en/first-new-yutong-trolleybus-for-mexico-city-officially-presented/
https://www.urban-transport-magazine.com/en/the-revival-of-the-emission-free-trolleybuses-in-mexico-city/

On the new elevated trolleybus line, called "Trolébus Elevado" in Spanish, test runs with passengers began on 11 September, while full operation is scheduled to start on 15 October 2022. However, not all sections have been completed yet, such as the elevated track including the terminal loop at the transfer station to the metro and also parts of the overhead line are missing, the trolleybuses run here on battery power. Despite all this, this is undoubtedly an extraordinary initiative for the rapid improvement of public transport in the metropolis!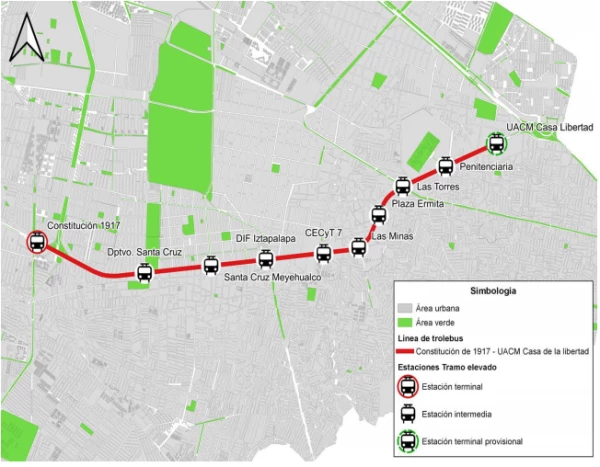 14.09.2022
---