Updated short news
The first two battery-electric buses in Würzburg will start revenue service on routes 6 and 16 on 13 July 2020. The Solaris Urbino 12 Electric have a motor power of 2 x 125 kW and a battery capacity of 240 kWh. Operator is NVG Omnibus-Betriebsgesellschaft mbH.
A second, independent tramway network started service in Chinese metropolitan area of Guangzhou on 1 July 2020. The first, 8km long route Changping (metro line 21) – Xinfeng Lu branded "Huangpu Tram" is operated by four-section CRRC low-floor trams.
The last of the 153 new light rail vehicles of the TW 3000 model supplied by Heiterblick to Üstra Hannover arrived on 30 June 2020.
Four VDL Citea Electric SLFA-18 articulated, battery-electric buses start operation on Stadtwerke Münster's route 11. VDL 12-metres e-buses are already in service here, another 12 articuled e-buses will follow next year.
Naples' regional transport operator EAV has signed a framework agreement with CAF for the supply of up to 10 six-car trainsets for the 10 km suburban metro line between Piscinola and Aversa Centro.
Vy Buss, part of Norway's principal national mobility provider, Vy Group, has taken delivery of its first 15 pure-electric, 100% emissions-free eBuses from BYD. This initial delivery, the start of a major fleet renewal programme comprising 55 BYD eBuses, features eight 13-metre Class II models and seven 18-metre articulated units.
Ebusco supplied a further 20 eBuses to Qbuzz for city bus operation in Utrecht.
The new tramway line currently under construction between Lausanne and Renens will be extended to Villars-Ste-Croix – the Swiss parliament Bundesrat has given his approval.
The opening of the third metro line (Zelenoluzhskaya) in Minsk originally scheduled for July 2020, has been delayed until at least end of September.
Naumburg's tramway no. 29 is the last operating LOWA tramcar in Germany. It will be out of service for a longer period, the last operating days will be 20, 21 and 27. June.
Vy Buss AB in Jönköping/Sweden ordered 49 high-capacity Volvo 7900 Electric Articulated buses. The new buses, which are scheduled to enter operation in Jönköping, in summer 2021, are part of the city's next-generation investment in public transport.
in Bangkok the new BTS Green Line extension between Mor Chit station and Khu Khot station/Rangsit, was opened for public travel on 5 June 2020. This extension, which has four stations, was officially launched by Prime Minister Prayut Chan-o-cha.
Test rides over the entire 22 km line of the new Tram-Train system in Cádiz in Andalucia/Southern Spain have been resumed, the opening date September/October 2020 does not appear to be totally unrealistic anymore.
Wiener Linien is currently testing aSolaris Urbino 12 hydrogen bus which uses a set of fuel cells with a power of 70 kW.
State-owned "Kiira Motor Corporation" has presented its first electric bus model called "Kayoola EVS" in Uganda. In addition to a battery package solar-power cells are mounted on the roof. The first two vehicles will operate in the capital city Kampala. (ChrM)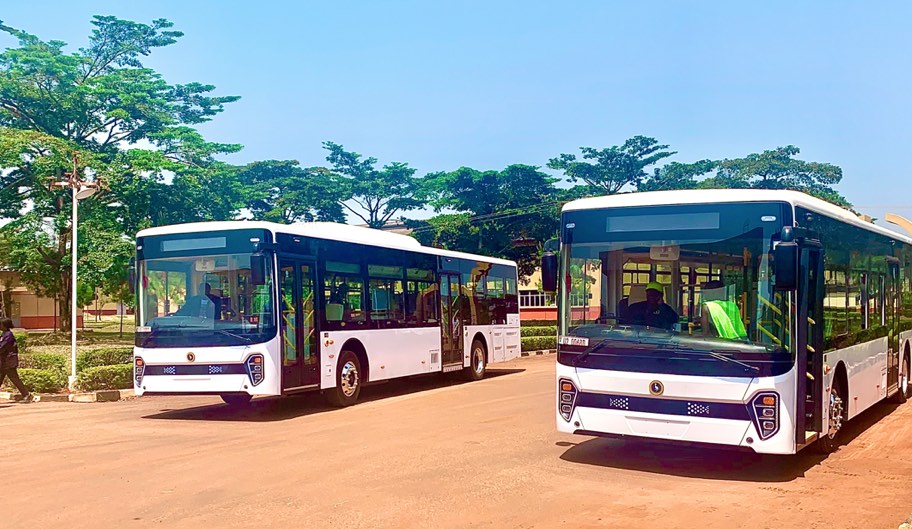 The 40 VDL electric buses at Unibuss A/S in Oslo have done their first 1,000,000 kilomtres altogether, which means an average of 25,000 km per vehicle. (ChrM)
Stadtwerke Rodgau in Germnay next to Frankfurt) are testing a Heuliez GX 337 elec, an "Iveco Crossway 12 LE CNG" and a "Mercedes Citaro BZ Hybrid" (fuel cell) are to follow soon, in order to assess future procurements. (ChrM)
Two important contracts have been secured by Solaris and its articulated battery-electric bus model Urbino 18 electric: The Romanian city of Craiova have just will get 16 of it in the first half of 2021. All are equipped with a roof-mounted pantograph for opportunity charging at various charging points which are also part of the supply contract. Motor power of the new e-buses is 240 kW. In addition, no less than 50 similar vehicles will be supplied to the Polish city of Krakow.
On 19 May 2020 BYD delivered a fleet of 20 units of BYD 12-meter pure electric battery buses to CUTCSA, the country's largest urban public transport operator, in the Uruguayan capital of Montevideo.
Volvo will supply a further 128 hybrid buses of its 7900 Hybrid model to Belgium's capital city operator STIB-MIVB by 2021. Brussels had already received 110 hybrid buses from Vovlo during past two years.
A completely tramway system was opened in the Chenese city of Tianshui on 1 Mai 2020. The 13 km long trunk route Wulipu – Tianshui Main Station is operated by bi-dircetional low-floor vehicles from Chinese manufacturer CRRC.
The public transport operator in Lublin ordered twelve Solaris Urbino 12 electric buses for delivery from November 2021 to April 2022. The total value of all the contracts for ordered electric buses with seven charging stations and after-sale servicing exceeds PLN 32 million.
Last update on:
10.07.2020
---